2021 Annual Report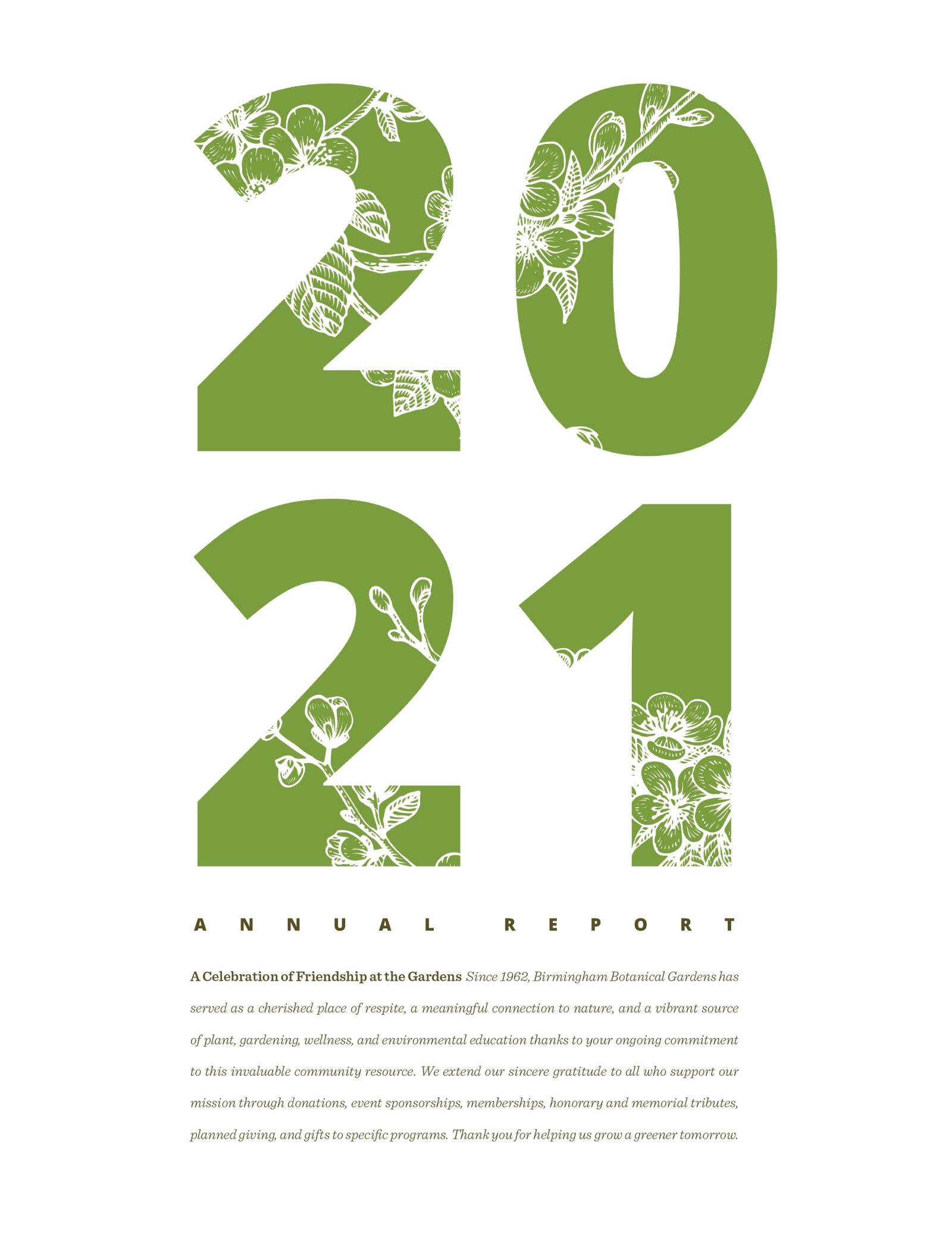 2021 Donors, Sponsors & Philanthropic Members
The impact and very existence of this beloved urban oasis are thanks to the support of a community that cares.
A very special thank you to the following donors, corporate sponsors, and philanthropic members who supported the Friends of Birmingham Botanical Gardens with cumulative gifts of $1,000 and above between January and December 2021.
We extend our sincere gratitude to all who support our mission through donations, memberships, event sponsorships, honorary and memorial tributes, planned giving, and gifts to specific programs throughout the year.
Thank you for helping us grow a greener tomorrow.
To explore milestones that your commitment made possible in 2021, read full report here.
---
DONORS & BENEFACTOR CIRCLE MEMBERS
Garden Benefactors ($2,500 and above)
Includes Benefactor Circle members at the Orchid ($20,000+), Dahlia ($15,000–$19,999), Camellia ($10,000–$14,999), Azalea ($5,000–$9,999), and Dogwood ($2,500–$4,999) levels
Councilor Valerie A. Abbott
Alabama Power Foundation, Inc.
USBG & APGA Urban Agriculture Resiliance Program Award
Andrew Burgin Charitable Trust
The Ann & Angelo Bruno Foundation
Anna McWane Charitable Foundation
Cindy & Brian Barr
Sandy & Ted Berglund
The Estate of Virginia Bonds Black
Dr. Suresh B. Boppana & Family
Mr. & Mrs. Luther H. Boudra
Bradberry Family Foundation
Brasfield & Gorrie
Maggie & Will Brooke
Mr. & Mrs. Ryan Burgess
The Butcher Fund
Mr. & Mrs. John E. Butcher
Camille Butrus
Holly & Robert de Buys
C. Eugene Ireland Foundation
Jonnie & Paul Caddell
Ms. Inez Morgan Calhoun*
City of Birmingham
City of Birmingham Park & Recreation Board
City of Vestavia Hills
Dr. & Mrs. Charles H. Colvin III
Comer Foundation
Debbie & D.C. Coston
The Daniel Foundation of Alabama
Mr. & Mrs. Bob de Buys
Marilyn & Jim Dixon
Donald M. James Family Foundation
Leighton & Cody Doores
Ms. Linda F. Emerson
Dr. Glenn T. Eskew
Janie & Wally Evans
Pam & John* Floyd
The Forman Foundation
Kirk & Tate Forrester
Ellen & Houston Gillespy
Mr. & Mrs. T. Michael Goodrich
Melanie & Jay Grinney
Mr. Chris H. Hamre
Mr. & Mrs. Dod Hamre
Helen & Chris Harmon
Mr. Fletcher D. Harvey III
Hill Crest Foundation, Inc.
Mr. & Mrs. Hao Hsu
The Hugh Kaul Foundation
Independent Presbyterian Church Foundation
Ingram & Associates, Inc.
Mr. & Mrs. Carl E. Jones, Jr.
Mr. & Mrs. D. Paul Jones, Jr.
Leaf & Petal at the Gardens
Mrs. Keaosha Lewis
Lyndonwood Foundation
Cynthia & Cliff Martin
Ms. Anne H. Maura
Anna McWane
Rebecca & Bob Moody
Dr. Mark D. Nelson
Tricia & Andy Noble
Mr. & Mrs. Christian J. Noll III
Katharine & Donald Patton
Marian & Steve Phillips
Carol P. Poynor
Mrs. John W. Poynor
Publix Super Markets Charities, Inc.
Regions Financial Corporation
Dr. John Riser & Dr. Emily S. Riser
The Riser Family Fund
Robert R. Meyer Foundation
Mrs. Janet W. Rooney
Rucker & Margaret Agee Fund
Mrs. Leah M. Sherman
Dr. & Mrs. Joseph M. Sherrill
Nancy & Murray Smith
Murray & Joseph South
The Sperling Family Charitable Foundation
Spire, Inc.
Stanley Smith Horticultural Trust
Mr. Carlos S. Staples, Jr.
Strain Foundation
Susan Mott Webb Charitable Trust
Three S. Advised Fund
Tito's Handmade Vodka / Fifth Generation, Inc.
Vulcan Materials Company
Ms. Tena R. Wallace
Mrs. Mary M. Williamson
Louise & John Wrinkle
Anonymous
Garden Benefactors ($1,000–$2,499)
Includes Benefactor Circle members at the Boxwood ($1,000–$2,499) level
Cathy & Thomas Adams
Richard Adams
Mr. Edmund R. Agee, Jr.
Kay Aldridge
Altec, Inc.
Peggy & Uday Bhate
Jane & Harold Bissell
Mrs. Patricia H. Blinn
Connie & Cecil Bostany
Mr. & Mrs. William A. Bowron, Jr.
Mr. & Mrs. Robert S. Briggs
Ms. Kaye McKinley Carlisle
Alleen Cater & Lyle Hohnke
Louise & Charles Clayton
Cameron & Derrill Crowe
Mr. & Mrs. C. Coleman Daniel II
Dr. & Mrs. Thomas P. Dooley
Ms. Lottie S. Downie
Kathryn & Doug Eckert
Mr. & Mrs. Ronald E. Elliott
Wendy & Jake Evesque
Mr. & Mrs. Christopher T. Fennell
Mr. & Mrs. Stephen Flowers
Caroline & Simon Foweather
Mr. & Mrs. Charles S. Fowler
Mary & Jamie French
Lady Jane & Yancey Gillespie
Mr. & Mrs. William W. Goodrich
Goodrich Foundation
Patti Hammond
Leah & Robby Hazzard
Margariette & Bob Hooms
Mr. & Mrs. Christopher W. Hoyt
Millie & Billy Hulsey
Margi Ingram
Jemison Investment Company, Inc.
Mr. & Mrs. James Milton Johnson
Virginia Johnson
Sarah R. Johnston
Walker & Bill Jones
Junior League of Birmingham
Ann & Charles Katholi
Leo Kayser III
Mrs. Gloria Kittel
Mrs. Kelly LaFollette
Dr. & Mrs. Thomas G. Lamkin
Landscape Services, Inc.
Dr. Karen J. Larsen
Lawrence & Bundy LLC
Caroline & Mark Little
Sue Ellen & Mike Lucas
Terri & John Lyon
Jennifer & Stephen Mason
Lucy & William McCown
Mr. James W. McFarland
Mr. & Mrs. Warner McGowin
Laura McWane
Mike & Gillian Goodrich Foundation
Marsha & Phillip Mims
Mr. & Mrs. Joseph Morad
Fairfax & Drayton Nabers
Oak Street Garden Shop
Mary & Steve Phillips
Pinnacle Imports
Sally & Gene Price
Minnie Rast
Mr. A .B. Riser
Susan & Dowd Ritter
Holly & Mark Robertson
Kimberly & Bruce Rogers
Mark Rosse & Kaye McWane-Rosse
Holly & Stan Roth
Paula & Mike Rushing
Debbie & Steve Schoeneman
Katherine & James W. Shepherd, Jr.
Diana & Bill Slaughter
Dorinda & John A. Smith
Mandi & John Smith T
Smithfield Foods' Pure Farmland Pure Growth Project
Ryan & Erica Speegle
Arnold Steiner
Pardis & Frank Stitt
Mr. Douglas A. Stockham
Anne & Roger Suttle
Jane & Tom Underwood
Virginia Stockham Ladd Family Foundation
Mrs. Elizabeth Y. von Herrmann
Louise Walton
Jane Webb
Mr. Claude C. White & Ms. Sallie S. Aman
Women's Committee of 100 of Birmingham
Richard Wood & Wendi Brown
Sally Worthen
Dianne Young
Anonymous
---
ANTIQUES AT THE GARDENS
Co-chairs
Shannon Lisenby | Stephanie Lynton
Honorees
Kim Matthews | Joan Starnes
Presenting Sponsor
IBERIABANK (a division of First Horizon Bank)
Gala Sponsor
Starnes Davis Florie LLP
Red Diamond Lecture Series
Red Diamond, Inc.
Platinum Sponsors
Alabama Power Company, Inc.
Birmingham Park & Recreation Board
The Caring Foundation of Blue Cross & Blue Shield of Alabama
City of Birmingham
Cameron & Derrill Crowe
ProAssurance
Regions Bank
The Thomas E. Jernigan Foundation
Gold Sponsors
Burr & Forman LLP
Dogwood Hill
EBSCO Industries, Inc.
Medical Properties Trust, Inc.
McCorquodale Transfer
Protective Life Insurance Company
Diana & Bill Slaughter/Melissa & Hanson Slaughter
Silver Sponsors
Altec, Inc.
Birmingham Coca-Cola Bottling Co. UNITED
Bradley Arant Boult Cummings LLP
Brasfield & Gorrie
Caroline Gidiere Design
C.S. Beatty Construction, Inc.
Dunn-French Foundation
Mary & Jamie French
Penny & Mike Fuller
Gillian & Mike Goodrich
Handley Breaux Designs
Life Insurance Company of Alabama (LICOA)
Shannon & Jeff Lisenby
Stephanie & Wade Lynton
Heather & Phillip McWane
1919 Investment Counsel
O'Neal Industries
On-Site Productions
Penny & Ruffner Page
PropHouse Birmingham
ServisFirst Bank
Shoppe & General
Stifel
Strickland Companies
Brooke & Tyler Wahl
Warren Averett
Bronze Sponsors
Alabama Aquarium & Pond Services, Inc.
Alabama Public Television
Jennifer & Jimmy Ard
ARC Realty
The Atelier
BB&T now Truist
Birmingham Home & Garden magazine
Maggie & Will Brooke
Barbara Lovelace Burton & David Williams
Ragan & Brad Cain
Molly & John Carter
Anna & Jim Cooper
Mr. & Mrs. Whitney DeBardeleben
EventWorks
FLOWER magazine
Ellen & Houston Gillespy
Grand Bohemian Hotel, Mountain Brook
Mr. & Mrs. Timothy Hennessy
Inline Lighting & Electrical Supply
Junior League of Birmingham
Joy & Price Kloess
Leaf & Petal at the Gardens
Katie & Jim Lasker
Cathy & Tommy Luckie
Kim & George Matthews
Maynard Cooper & Gale PC
Nall Whatley Foundation
NelBran Glass
Tricia & Andy Noble
Mr. & Mrs. Donald Patton
Pinson Valley Heat Treating Co.
Mrs. John W. Poynor
Anne & Ned Rand
Redmont Distilling Co.
Kim & Bruce Rogers
Shoal Creek Properties
Joan & Stan Starnes
TCC
VERANDA magazine
Vineyard Brands
Stephen Vise & Richard Vise
Vulcan Value Partners
Mary Williamson
Louise & John Wrinkle
Director Sponsors
Beth & Scott Adams
Paige & Carl Albright
Melinda & Ed Aldag
Kay Aldridge
Mr. & Mrs. Leon Ashford
Birmingham Lifestyle Magazine
Jane & Harold Bissell
Camille Butrus
Caldwell-MacKay Co., Inc.
Bronwyne & John Chapman
Debbie & D.C. Coston
Cowin Equipment Company, Inc.
Lyndra & Bill Daniel
Carnetta & Norm Davis
Dana & Tony Davis
Deborah's Party Rental
Douglas C. Davis & Associates
Dread River Distilling Company
Sarah & Charlie Duggan
Fixtures & Finishes
The Gardens Café by Kathy G
Alison & Jim Gorrie
Joy & Beau Grenier
Penney & Roger Hartline
Dr. & Mrs. Jimmie Harvey
Leigh & Will Haver
Beverley & Chris Hoyt
James F. Carter, Inc.
Leo Kayser III
Lynn & Benny LaRussa
Caroline Little
Sandy & Don Logan
Marigold Designs
Camille & Bradford Marks
Betty & John McMahon
Catherine & Andrew Meehan
John & Jean Oliver
Paige Albright Orientals
Sandra & Jerry Parker
Carol Poynor
Peggy & Conrad Rafield
Reli Settlement Solutions, LLC
Paula & Mike Rushing
Scout Guide Birmingham
Mrs. Edward Selfe
Set to Sell LLC
Mr. Douglas A. Stockham
Staci & Ben Thompson
Jane & Tom Underwood
Vicka Hansen Floral Design
Wild Things
Woodhill Cottage
Zachary J. Westall Bespoke Landscapes
---
PERENNIAL LEGACY GIVING CIRCLE
Recognizing those who have made or pledged a planned gift
Mr.* & Mrs. Edgar G. Aldridge
Mr. & Mrs. Michael Balliet
Ms. Camille A. Becker
Mrs. Lucille S. Beeson*
Peggy Bonfield & Orrin Ford*
Ida C. & D. Joseph Burns*
Mr. & Mrs. Arthur I. Chenoweth*
Mary Carolyn Gibbs Cleveland
Suzanne G. Clisby
Dr. & Mrs. D.C. Coston
Mrs. Martha Stone Cobb Daniel*
The Daniel Foundation of Alabama
Dr. L. Aubrey* & Elizabeth Drewry
The Dunn-French Family
Dr. John D. Elmore*
Martha B. & Robert L.* Eskew
Mrs. Trudy Evans
Mr. & Mrs. Wally Evans
Mrs. Claire H. Fairley*
Bernadine Rushing Faulkner
Mr. F. Lewter Ferrell, Jr.*
Dorothy Ireland Fletcher
Dr.* & Mrs. Charles P. Grant
Patti Hammond
Jody & Don Hamre*
Penney & Roger Hartline
Mr. R.R. Herbst*
Mrs. Jimmie Hess*
Mr. J. Ernest Hill & Mrs. Ora Lee Hill*
Mrs. Jane Hinds
Fay B. Ireland*
Dr. Susan Jackson
Mr. George L. Jenkins
Bobbe & Hugh Kaul*
Ms. Pamela Kaul*
Mr. Jason C. Kirby & Mr. Benjamin J. Faucher
Fran Lawlor
Dr. Bodil Lindin-Lamon*
Hope Long
Dr. Michael E. Malone
Annie Lee Buce Matthews*
Ms. Louise T. McAvoy*
Douglas A. & Linda P. McCullough
Margaret H. McGowan*
Mrs. Mary Jean Morawetz
Mr. Philip Morris*
Thelma Vaughan Mueller*
Mr. & Mrs. Fred W. Murray, Jr.
Don & Pat Nelson
Dr. James L. Newsome*
Dr. & Mrs. A. I. Perley*
LeAnne* & Steve Porter
Mrs. Carol P. Poynor
Mrs. Dorothy L. Renneker*
Deborah & John Sellers
Sandra S. Simpson
Mr. & Mrs. William M. Spencer III*
Frederick R. Spicer, Jr.
Mr. Douglas Arant Stockham
Janet & Jarry Taylor
Dr. Wendell H. Taylor, Sr.*
Mrs. Barbara D. Thorne*
Dr. & Mrs.* Jack W. Trigg, Jr.
Mrs. Carolyn D. Tynes*
Mrs. Ann H. "Nancy" Warren*
Mrs. Robert Wells
Anonymous
*Deceased
---
LIFETIME MEMBERS
Mary & Samuel Blount
Dell Brooke
F. Dixon Brooke
Derry Bunting
Thomas Carruthers
Mary Carolyn & Melford Cleveland
Ann & James* Cox
Isabelle & Paul Dreher
Beverly M. Perrine
Carolyn & William Satterfield
Frances Shepherd
Virginia & Robert* Shepherd
Lucy & Temple Tutwiler
Norman T. Williams
*Deceased
---