Thanks to thoughtful design and the devotion of a caring volunteer community, a once-forgotten garden space now serves as a place that allows thousands of families to remember, find comfort, and heal.
By Molly Hendry
---
The only notable feature of this undeveloped corner of the Gardens was a rutted-out ditch, carved out from years of rushing water making its way down the backside of Red Mountain. This particular spot was still recovering from straight-line winds that decimated the northern areas of the garden during a storm in the early 1990s. It was hard to imagine this small space as anything particularly memorable, or really as any place at all.

But 20 years ago, a passionate group of women were able to look beyond the damage and imagine a place, one that would take the ravaged leftovers from a storm and transform them into a garden, a source of healing for those suffering from the pain of infant loss. This was the creation of the Little Ones Memory Garden, a place to remember and a place to heal, an offering of hope.
---
It seems fitting that a forgotten corner of the garden would be reimagined as a place of remembrance, doesn't it? While the Little Ones Memory Garden has been growing for 15 years, this story begins more than 30 years ago with a visionary named Martha Turner.
Working as a labor and delivery nurse at Princeton Hospital, she watched couples from all over the city experience infant loss, a sorrow that 1 in 4 women will walk through during their pregnancy journey.
Whether through a miscarriage, stillbirth, or neonatal loss, each day families are confronted with the heartbreaking reality that they will be leaving the hospital without their little one in their arms.
Many feel unsure of how to carry on, lost in where to go, wondering how to heal. The grief can be disorienting and paralyzing. Many times these families suffer silently amidst the pain that feels so isolating.
During a training on how to care for mothers and fathers experiencing loss, Martha heard of an annual memorial walk at a garden in Salt Lake City to honor little ones lost and give families a place to mourn, to remember, to hope.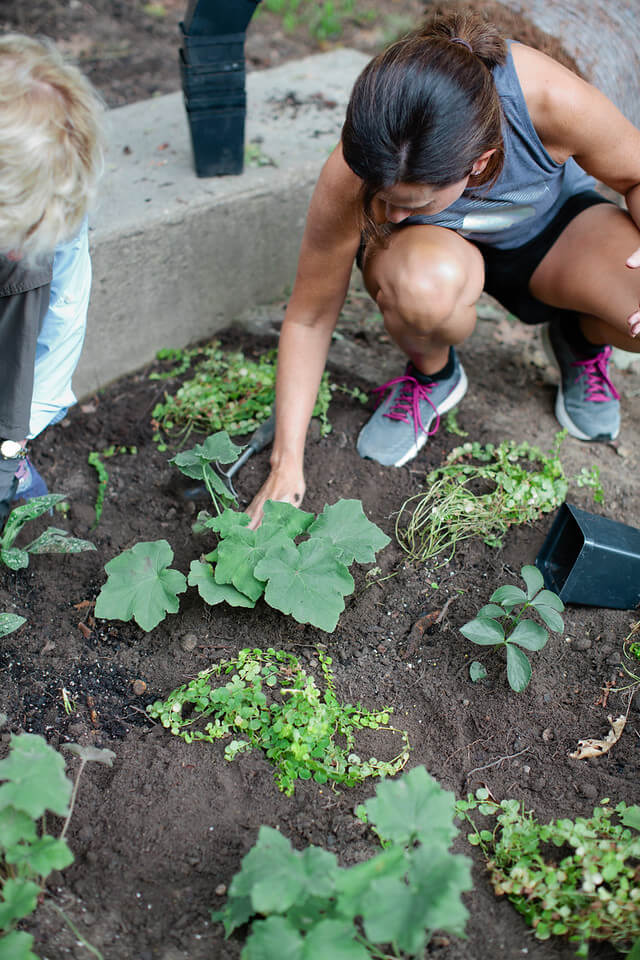 This sparked an idea in Martha. "Seeing the loss and knowing that some people didn't have anywhere to go, I just felt that if we could give them an opportunity to come together it would at least be something, even if it was a small something."
This was the birth of the annual Walk to Remember, which had a humble beginning in a borrowed courtyard outside the former Trinity Medical Center with about 10 people in attendance. As Martha began to network with other nurses, social workers, and chaplains at surrounding area hospitals, the walk grew. They planted a magnolia tree in the courtyard the first year, commemorated it with a plaque the next, and dedicated a bench the third year.
But soon the walk had grown so much they were borrowing the Southern Living Garden at Birmingham Botanical Gardens for their service each October. And with each passing year, the word spread and more and more families came. It wasn't long before the walk outgrew this borrowed garden, and the committee members began to imagine what it would take to create a garden of their own at BBG. They dreamed of a space that would go beyond their once-a-year walk and be a place for these grieving parents to go any day of the year.
In 2005, this dream took root with the dedication of the Little Ones Memory Garden and the celebration of the first Walk to Remember in their own garden. It is an inspiring journey from one magnolia tree in a courtyard to a dedicated space at the Gardens, all from one woman's conviction that, simply put, she just needed to do something. That little something has grown for 15 years now, and as with any garden, was in need of a renewal. That is where I crossed paths with this special place. We set out to reimagine the plantings, and what I found is a place that has grown into so much more than simply a garden.
---
It's spring …
…on a glorious afternoon, one of those first warm days that gives you hope that winter's grip is loosening. I am standing with Susanne Lambert in the Little Ones Memory Garden amongst a small group of garden staff that have gathered to brainstorm a refresh of the planting beds. Susanne has been involved with the garden since its inception, so I am eager to hear her thoughts.
My notepad is at the ready.
"You see, what we really need is color. Seasonal color," Susanne says. "Especially in October, when our annual walk takes place."
"Color—October," I write down.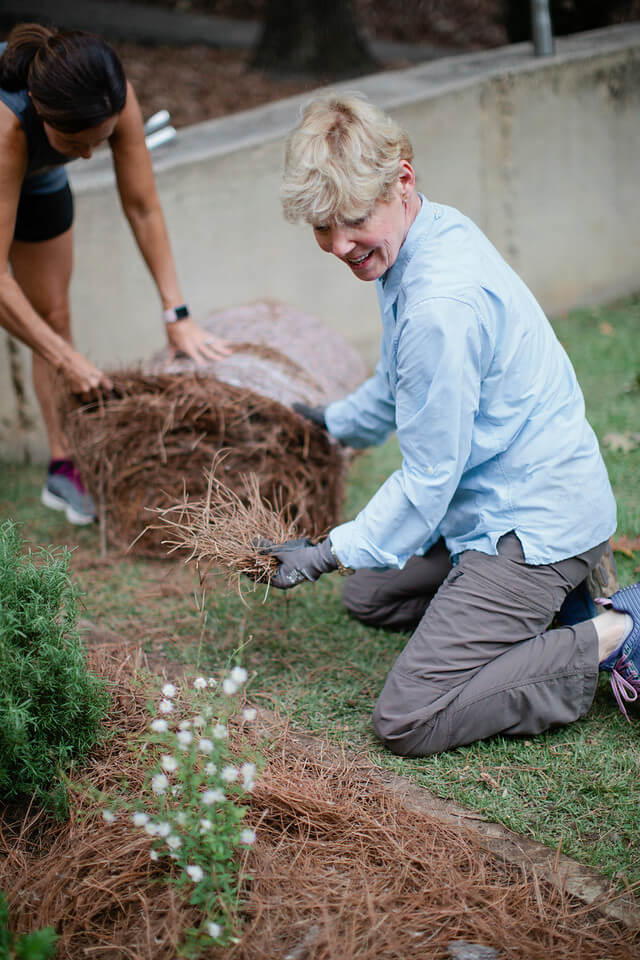 "We want it to feel beautiful, no matter when a family visits!"
I scribble year-round interest in my notes.
I pause and step back to take a look at the surrounding context. This garden is in a bright clearing in the woodland canopy, tucked away above the Rhododendron Gardens, sloping down the hillside facing the bright southerly sun.
I note how tired the planting beds look with remnants of a coherent design muddled by plants that had been plopped in to fill gaps. The most striking features of this garden are the concrete retaining walls that slice into the hillside, creating a dry creek bed out of what was once a worn drainage ditch.
I hear Susanne continue, "And the walls, they are the most prominent thing right now. Is there a way to soften them?"
Soften walls…
I realized in this moment it is hard to speak with Susanne and not feel an overwhelming sense of peace. Her eyes are kind and steady, and her voice overflows with a gentle and grounded confidence. Her laugh is light and her smile infectious.
I learned that Susanne first joined the group 25 years ago after a providential connection with Martha through Susanne's personal artwork.
Although Susanne was already retired as a nurse, it was through her newfound community in the Little Ones group that she was offered the opportunity to return to the healthcare field as a bereavement nurse at Brookwood Baptist Hospital.
She was back in the same occupation but with a new goal: to comfort families who were experiencing infant loss.
She describes this opportunity as a full-circle moment. She was once the grieving mother in the hospital bed after experiencing the loss of her son Eli, who was stillborn more than 40 years ago.
Now she was the one kneeling at the bedside ready to be a voice of hope to the mothers walking the painful road she had travelled before them.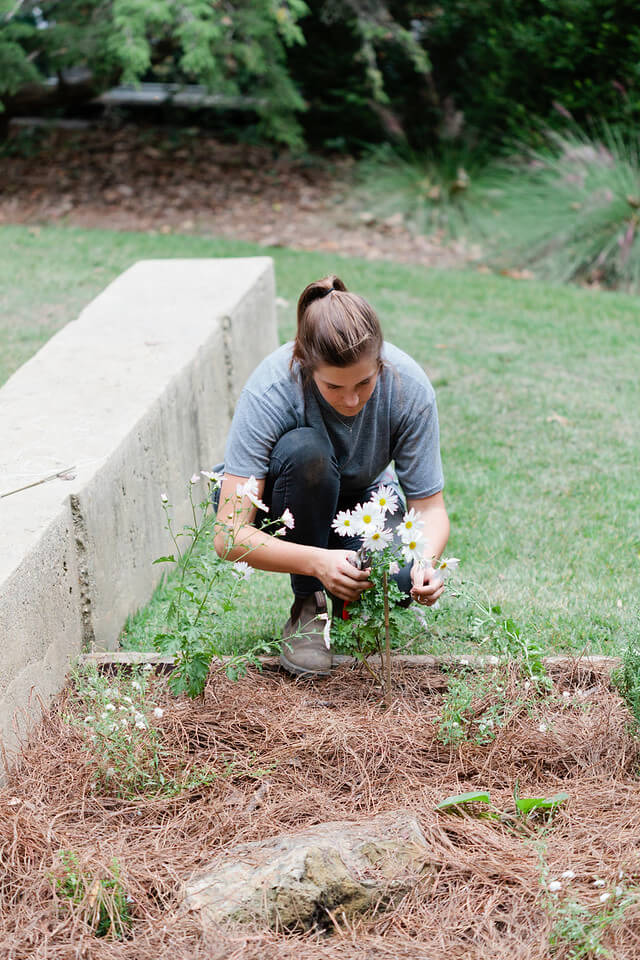 Although she has now retired again, that has not quenched her passion for supporting grieving families through the Little Ones group. As Susanne speaks, I felt instinctively that her care for this garden goes deeper than the beauty of the plantings and is rooted in her love for the community that surrounds this special place.
Standing on top of one of the walls and reviewing my notes, I was feeling pretty good about the task at hand. The needs of the garden seemed very manageable: seasonal color that adds year-round interest and softens the hard lines of the retaining walls. Nothing that hasn't been done before, right? That is when Susanne hits me with one final thought.
"The garden is the last place we tell these couples about when they leave the hospital." Then she adds, "It is hope! There is somewhere you can go, and a group of people who understand. It is hope; how do you explain that?"
That question reverberated in my mind.
How do you explain hope?
And even more, how does hope manifest in a garden?
---
It's summer …
… when I sit down in our Library's Archives & Rare Book Room to study original maps of the Little Ones Memory Garden. It was a pretty simple design concept to grasp. The old washed-out drainage ditch had been turned into a dry creek bed to channel water during storm events, with tiered planting beds adjacent to the streambed. This garden has solid bones, so its needs really were a question of planting design. This meant that each plant chosen needed to pull its weight and contribute to the overall goal. Which brought me back to that original question: What does hope look like in a garden?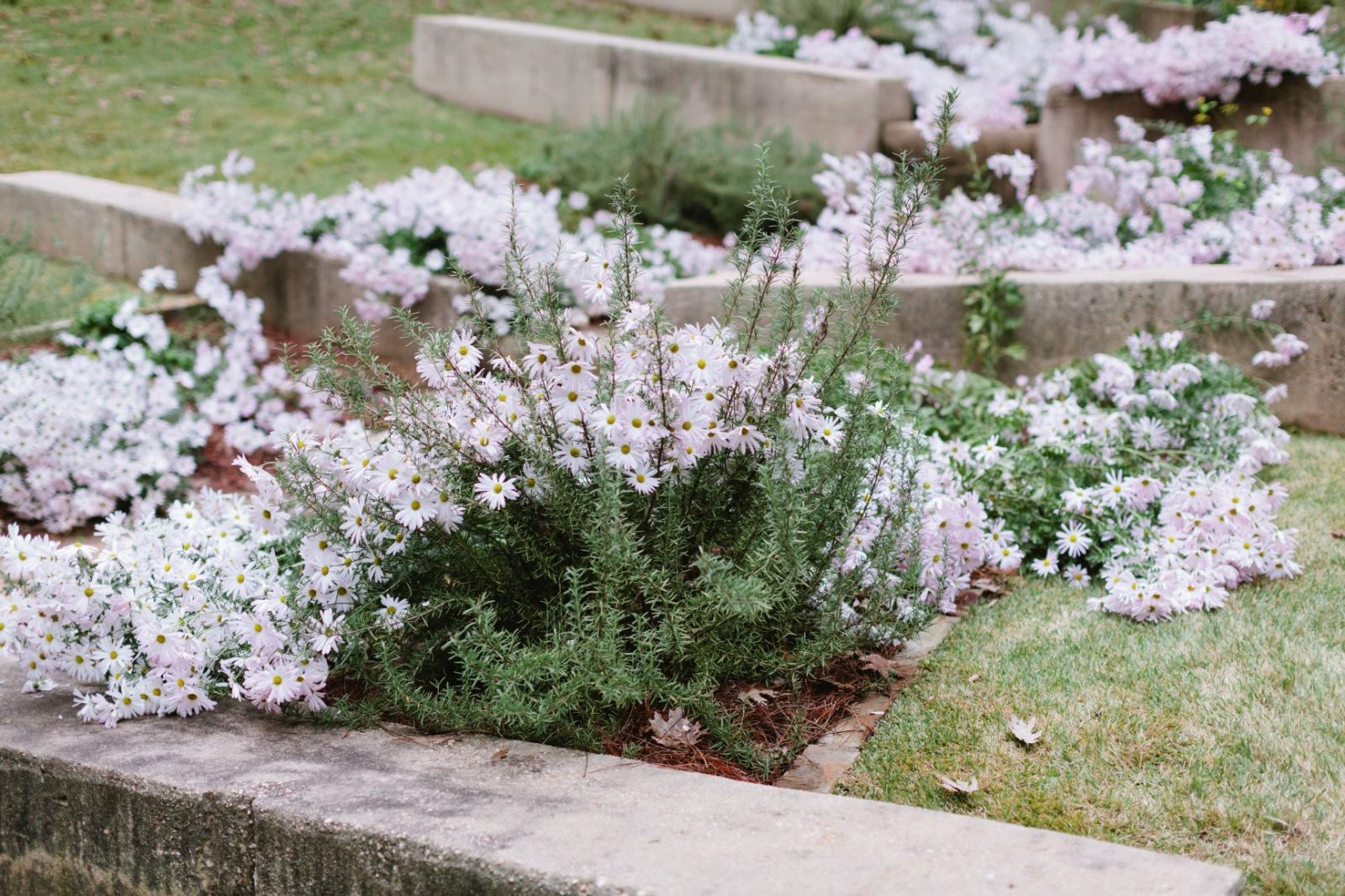 I couldn't shake the idea of the seasons. From winter to spring, summer, and fall, each new season brings a renewed promise. Despite anything that is happening in the world, spring bulbs emerge, the leaves reappear on the trees, and a thin layer of green pollen covers everything in sight. When you can taste honeysuckle in the air it's time for school to let out, just as oakleaf hydrangeas are blooming and the first watermelons appear at the farmers market.
Summertime is a rousing chorus of color and sunscreen application while the air thickens and hums with life. Then autumn comes, the long-awaited respite from the heat for us Southern souls, with that intoxicatingly sweet smell of crisp air and bonfires, the sound of crunching leaves underfoot, and the glowing autumnal light mixed with the resounding echo of people complaining about their allergies.

There is a palpable rhythm, day to day, month by month, year after year. That rhythm washes over us, with the sights, smells, sounds, and feelings of each fleeting moment. The seasons are the beating drum to which our life falls in step, their seemingly mundane predictability an anchor amidst disorientating pain. I knew this design must shout the seasons so that any family, any day of the year, would walk away with a rooted hope that there is softness against the harshness of life, there is rhythm when life feels so dissonant.

The first design question was structure. What would be there when the herbaceous layer faded? Remembrance is the core of this garden, and Shakespeare said it best in Hamlet: "There's rosemary, that's for remembrance …" Rosemary it is. Next up, spring. The garden needed something brilliant yellow that sings a bold springtime melody. Daffodils would do the trick. Summer harmonizes melodies of pink coneflowers, yellow black-eyed Susans, white kalimeris, soft lamb's ears, building to the final stanza. In October comes a crescendo of 'Ryan's Pink' mums that spill over the concrete wall backdrop and cascade down the edges of the creek bed, just in time for the Walk to Remember. There is an air of softness as blush mums thread the spiky rosemary, remembrance laced with hope.

By the end of summer the plants were chosen, the quantities were sourced, and dozens of crates sat in lathhouses waiting for the air to cool for planting. The garden was left teetering on what had been and what was to come.
---
It's autumn …
… on a lovely crisp morning when the Little Ones volunteer group works to clear the garden in preparation for the new planting. It is amazing to see how so many people have been brought together through this little garden. On any given workday you might meet a family who has experienced infant loss, a labor and delivery nurse or chaplain from a local hospital, or a member of a local infant loss support group.

This particular morning I am working alongside Gene Gilmore, a father touched by infant loss, cutting back overgrown forsythia, clearing fallen branches, weeding the woodland edges, cleaning up the tattered fronds of ferns, and laying pine straw. I learn that Gene and his wife, Lucy, were the instigators of this volunteer group. After losing their little boy in 2012, the couple came to the Little Ones garden one Easter Sunday shortly after being released from the hospital. Upon seeing the garden they approached the group with an idea: What if the Little Ones group actually began working in the garden? Since 2012, one Saturday each month during the growing season, families from all different walks of life kneel next to one another, getting their hands dirty in the Little Ones garden.

"It's extremely therapeutic," Gene tells me.

"Working alongside other couples that have experienced the same thing as you, there is a bond." Lucy adds, "Not knowing each other but knowing that you have something so painful in common, it is really easy to be candid while we are digging in the dirt."


And that is what makes this garden a little different, because the garden doesn't just grow to be passively appreciated. It grows in order to connect families to one another.
Each family is a thread colored with its own story, woven into the tapestry of the garden. "There is a place for everyone," says Rev. Dorothy Gerr, a spiritual care provider at Grandview Hospital.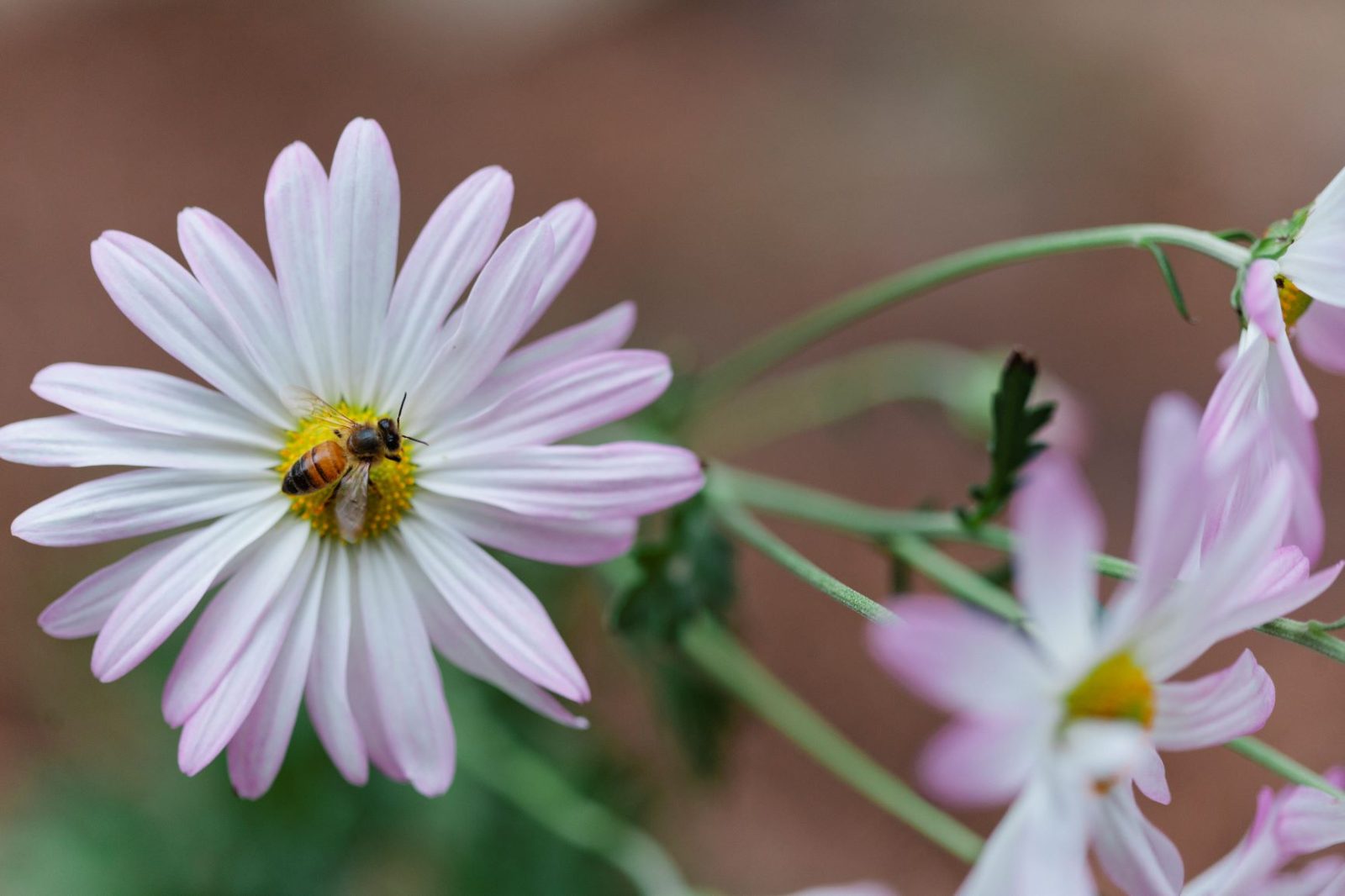 "There is a place for everyone," says Rev. Dorothy Gerr, a spiritual care provider at Grandview Hospital. She became connected to the group after working closely with Susanne at Brookwood to provide comfort to families suffering from a loss. Dorothy has walked alongside families from all parts of the city experiencing all types of infant loss. She is quick to add, "To be in this garden, to see renewal every year, to see the garden change and bloom with the seasons, to experience that, and to put our hands in the dirt and be part of that creative process also renews our hope."

After hearing the stories of each family's journey to this garden, I marvel at how the threads of each story are not only woven into the garden but also interlaced with each other. Susanne recounts how breathtaking it is to watch how families begin to heal through their ties to one another. "I always get this wonderful feeling when I am here," she says, "and particularly when I am with these families that come back. I have seen the ones that come in raw and hurting become the next ones that reach out. And this just happens year by year by year."

She finishes with words that seem to echo through every conversation: "This truly is a place of healing and such hope."

While healing and hope have come from intentional support in this community through the years, they have also come in little ways, small somethings that are actually quite important somethings. Lucy told me how their little girl, such a beautiful gift to their family after walking through loss, had the idea of donating some of her chalk for the Walk to Remember in 2018. With her chalk, families wrote messages on the walls and drew colorful pictures of encouragement that enveloped the garden. Unbeknownst to Lucy and her daughter, that year at the walk Brittany Hogan and her husband were grieving parents who were healing from the recent loss of their two daughters. Two years later when asked about how the garden has been a place of healing for her, Brittany eagerly recounts how that chalk gave her and her husband the opportunity to write their daughters' names on a wall during the service.

"That sounds so small, but it was very significant for us to write their names and remember them."

She then adds, "This garden feels so hopeful." I realized that fall morning in the garden that I am just getting a glimpse of all the threads that come together in this space, because with each Saturday workday, with each Walk to Remember, more threads are added to the tapestry. Now, one week later, it was finally cool enough to usher in a new era for the garden, the new planting design that I was hoping would accomplish the mission: to provide hope.

As I run around setting out plants, I see Susanne is already on her hands and knees planting the first hellebores at the top of the stream. Crates of 'Ryan's Pink' mums perfectly in bloom line the tops of the walls, and 3-gallon pots of rosemary dot the beds. We work our way from bed to bed leaving a trail of empty plastic pots as we move down the hillside.

After all the crates have disappeared from atop the walls, the plastic pots have been carted off, and the plants are watered in, we step back and admire the freshness of new life in the garden. Although small, the new plants will grow with time, and we feel the anticipation of what has been set into motion. I can hear the faint beat of the seasonal drum starting, the heartbeat of the garden.
---
It's now winter…
… and in the Little Ones Memory Garden the mums that cascaded down the edges of the stream have been cut back, and the garden drifts into its seasonal slumber. Yet, the rosemary still stands tall, the anchors for the winter, pillars of remembrance.

Winter is a season when we slow down, we pause in thankfulness, we celebrate our blessings, and we reflect on the year with gratitude. As I think back to that forgotten corner of the garden, wounded by the storm and scarred with an eroded ditch, it amazes me that this garden has blossomed in its place. The ditch was not hidden or ignored; instead, its waters were channeled. And along its edges a glorious creation provides daily comfort.

In the same way, 2020 has taught us we can't control the storms that come or the raging waters that roll through our lives. But we can control what we do in the wake of those storms and how we channel those waters that wash through. Instead of defining, they can be the backdrop for a glorious new garden. Although there is a winter, we know that spring is coming.

It is hope; how do you explain that?

Maybe the answer to Susanne's question is that hope cannot be explained simply with words. Perhaps hope must be cultivated as well.

And now when I enter this garden, I can hear the unwavering voice of Lucy saying, "Challenge yourself to make purpose out of your little one's life." For Gene and Lucy, that cultivated purpose was starting the Little Ones volunteer group, leading the charge for that hands-in-the-dirt healing. For Susanne, it has been planning the Walk to Remember year after year, helping establish the garden, and kneeling by the bedside of mothers in need of hope. For Brittany, it started by writing her daughters' names in chalk but culminated in speaking about her and her husband's healing journey at a Walk to Remember service, an opportunity to offer hope to hundreds.

It begins by doing something, even a small something, as Martha did 30 years ago. One day you may look back at your small offering of a magnolia tree in a borrowed courtyard and see the garden that grew in its wake. You may meet a mother who found hope in your box of chalk. You may watch your walk of 10 people grow to 200+ people, touching thousands of lives in the span of three decades. It may be small at the start, but it could blossom into something far beyond what you could ever imagine.

So come to the Little Ones Memory Garden. By remembering, we heal, and by hoping, we push on. No matter the storm-ravaged ground you encounter or the waters that have billowed your way, by creating gardens we forge with our hands the hope we hold fast to in our hearts.

This garden, it is hope, and together we can cultivate it.
---
A Time & Place To Remember
Devoted volunteers talk about their passion for the garden space that provides comfort to these families year-round.
---