Local Realtor's tribute gifts celebrate friends and family while also enriching the story of the Gardens
By Drew Rickel
---
What does Birmingham Botanical Gardens mean to you? Maybe you grew up coming to the Gardens, read a book on a swing next to the Moon Tree, took prom or engagement photos in the Hill Garden, escaped the summer heat under the canopy of trees in the Ireland Iris Garden, caught up with an old friend chatting on a bench in front of the Conservatory, or celebrated the life of a loved one surrounded by the peacefulness of nature. Margi Ingram has created many memories of her own at the Gardens and, in the process, helped lay the foundation for others to craft their own memorable moments.
"It's an ageless thing, from the stroller to forever that people go to the Gardens. I go there a lot, just walk around, and see every nationality, every age group. It's such a friendly place, and today it's become even more important. The Gardens are good for our environment, for our ecosystem. It's an honor to have it in our city."
Since getting involved at the Gardens in the eighties, the Montgomery native and longtime Birmingham Realtor has improved the Gardens in many ways, deepening her bond with this Southern landmark and enhancing spaces here where others can find or develop lasting connections. A former two-term board member with the Friends, she has provided her insights while also choosing this community treasure as a space to memorialize and honor those who have made an impact on her life.
While she has dedicated at least a dozen benches, trees, and swings and frequently encourages friends to do the same, perhaps Margi's most significant contribution would be the twin stone benches and a limestone sphere in the Hill Garden that she donated in memory of her parents, J. Jack and Drue Lucille Ingram, in March 2009.
"When my mother passed away two months before Thanksgiving, I spent the entire afternoon here at the Gardens. I had never spent a holiday without my parents. They were both gone at that time, and it was very soothing to be among all the beauty."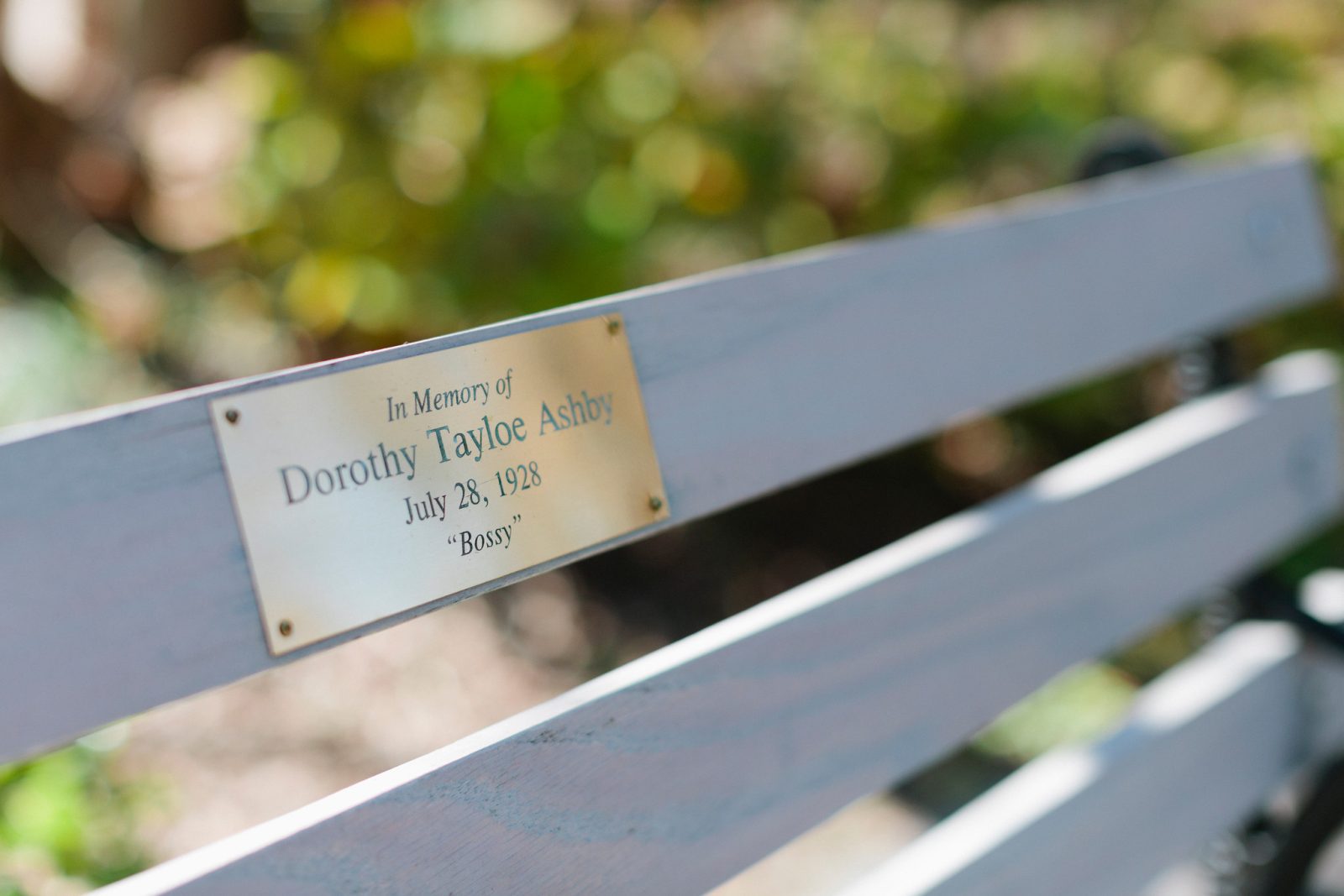 Honoring friends, coworkers, loved ones, and the memories of those who have passed helps create new memories, not just for those making the gift but for those who benefit from sitting on a new bench as a calming respite.
"I gave one recently for my friend Dot Ashby, who passed away at age 92. I was over here the other day, and I went by the bench to look. There was a lady sitting there. She asked, 'Do you want to sit here?' and I said, 'Oh no.' And she said, 'Did you know Ms. Ashby?' And I said, 'I did.' She said, 'I knew her too. I liked her a lot, so I wanted to sit on her bench.' You know, that validated everything I have been doing," says Margi.
The stories built in the Gardens are constructed with the hands of thousands of volunteers, with the dynamic vision and leadership of board members and staff, and with the generosity of members and donors. We deeply value supporters like Margi who help keep the Gardens thriving so others can grow their memories here.
"I just couldn't think of a better place or way to honor or memorialize friends and employees, or a better environment for the trees and benches to be," she says. "Sometimes I give people a gift to the Gardens to make sure they have an awareness of what we have here. I think they're very special—people who find peace and joy by coming here."
---
If you would like to join Margi Ingram in enriching the Gardens' story by honoring a friend, colleague, or loved one, please contact Donor Relations Officer Drew Rickel at 205.414.3950, ext. 102.