With a love for gardens running in the family, Hanson Slaughter attributes his support
and commitment to Birmingham Botanical Gardens as inherited passion from his mother and grandmother—one that he hopes to pass along to the greater Birmingham community.
By WENDY WALLACE JOHNSON
---
Central to any non-profit's success is the involvement and direction of the members of its board of directors. Hanson Slaughter, this year's honoree, has given many years of leadership to the Friends of Birmingham Botanical Gardens, including as chair of development committee and as board chair in 2014.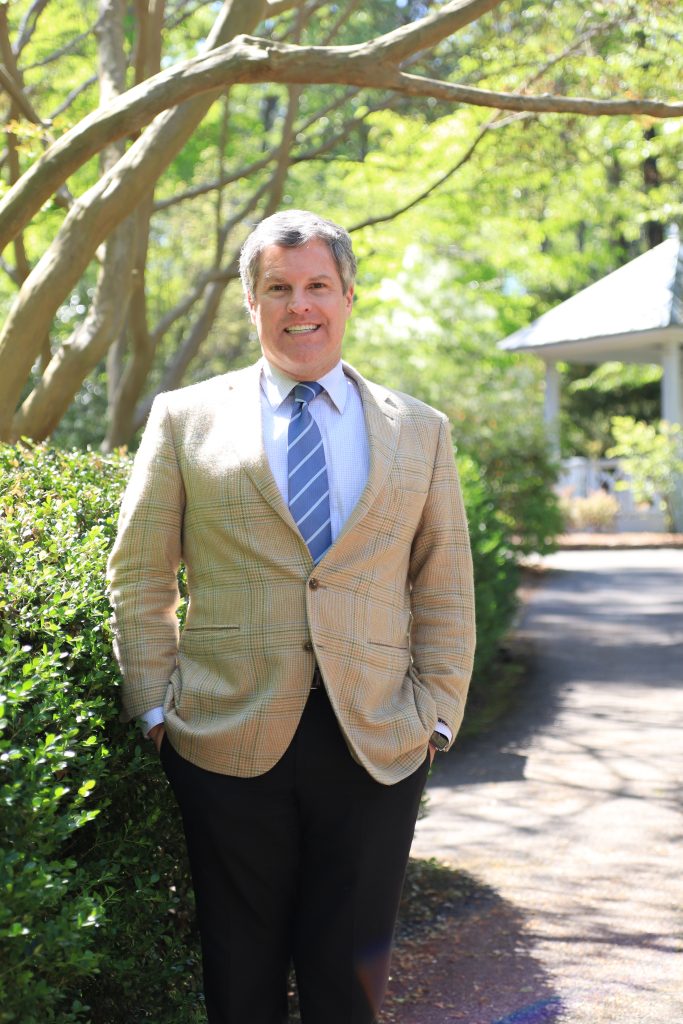 "If there is anything I would love to see
this year and future years, it is spreading
the word about the importance of
the Gardens to the greater community."
—HANSON SLAUGHTER
However, there was a time that the Birmingham native, who has given so much back to his hometown, believed that he would never again live in Alabama. After graduating from Indian Springs and the University of Virginia, he had fulfilled his goal, landing a successful job working as an investment banker in New York City. Then one day while apartment hunting, it hit him: "I wanted to move back to the South," he recalled. "I missed the South."

He immediately quit his job, and after a short break in Europe, he moved to Shreveport
where he worked in the oil and gas industry. But he still traveled back and forth to New York to see friends and Birmingham native Melissa Clark, whom he had met in New York and who had captured his heart.

"As fate would have it, my now wife of nearly 23 years and I were on the same page. Independently of one another, we decided we wanted to be back in Birmingham." Some of their friends in New York thought they were crazy for wanting to move back home, Hanson said. "But when they came to the wedding, they wanted to stay. Every time people visit from out of town, they fall in love. Birmingham is an incredible secret of the South. You don't know it until you come and visit the Gardens, the beautiful neighborhoods, see the architecture and the beautiful gardens that people have at their homes. It's really a unique place. It's such an easy place to live."

Life for Hanson and Melissa snow-balled quickly after coming home. They welcomed their son, John (now a sophomore at Princeton), in 2002, followed by their daughter, Virginia (an entering Freshman at Skidmore), in 2003.

"On the weekends, we were always looking for things for the kids to do," Hanson said. "Going to the Gardens with them was great because we could let them be kids, while enjoying a space we loved."
A love for gardens runs in the family. His grandmother, Mary Slaughter, was president of her garden club and a boxwood horticulturist. But it is his mother, Diana Slaughter, who he credits or his love for the Birmingham Botanical Gardens.

"She has been incredibly involved over the years," Hanson said. "She co-chaired the fifth Antiques at the Gardens back in 2010. She served on the Board of the Friends for years, volunteered at the plant sales…she has dedicated a lot of her time to the Gardens. For me to step into giving back felt very natural. "At the University of Virginia, I would go to the gardens along the lawn to study or even take my exams," Hanson recalled. "The Gardens here provide that same sense of respite. Even with all the activities going on, with nearly 70 acres, it's easy to find a quiet space to reflect. That's an important part of living—connecting with a living space."

Affording people the opportunity to connect with this living space is what Hanson is passionate about.
"Birmingham is very lucky to have this oasis right in the middle of everything. It is so close to downtown," he said. "I want to see increased engagement across the broader population. We have this gem that is not evenly enjoyed by the community. Bolstering our educational programming is important. Bringing people through the gates is important." This is the purpose of Antiques at the Gardens, he said.

Being a hybrid entity (the partnership between the City and the Friends) makes the Gardens unique, but also presents a challenge, said Hanson. "We have a lot of work to do to bridge the gap between the limited funding of the City and overall operational and programming needs. I often wonder if enough people realize a portion of the proceeds from Antiques at the Gardens goes toward the educational programs for children who may not otherwise have an opportunity to learn and spend time in green spaces."

Hanson, who is the managing director of the Birmingham office of 1919 Investment Counsel, said that is why his company has been a long-term gala sponsor. "1919 in Birmingham was once the trust company of Sterne Agee," he explained. "When I went to work at Sterne Agee in 2006, we were the title sponsor of the first annual Gala in the Gardens. We have continued this commitment with 1919."
The ticket sales from the gala are important because of what it supports, he said. Gesturing to an old gala photo on his desk, he smiled, "Plus, it's such a fun party. It's one of those that Melissa and I always try to attend. You have this great influx of young people in their 20s and 30s, plus all the people who have been involved in the Gardens over the years. "The show in its current form has put Birmingham on the map. It's always been an event that people from Birmingham like to go to, but now we have people from other cities who travel to come to the show," he said.

"For attendees, our show is more manageable than some of the other shows. You could say ours is in the 'Goldilocks' zone…it's the perfect size. You feel this intimacy when you go to the speaker events and talk to the dealers. And there is the opportunity to make so many connections."

Hanson, who also serves on the boards of Indian Springs School, the Jefferson Trust for the University of Virginia, and CommerceOne Bank, said these connections are important at the board level as well. "I have worked with a lot of nonprofits in a variety of capacities, personally and professionally, and I really do believe that the board of the Friends is among the top five best-run nonprofits with whom I've worked. It is an extraordinary institution."
The financial success of AATG is tantamount to the work of the Friends. "Just because you are well run, and you are building your endowment, that doesn't mean that you don't need funds," said Hanson.
He looks forward to helping to contribute to the Friends success.
"If there is anything I would love to see this year and future years, it is spreading the word about the importance of the Gardens to the greater community. I want people to have a better understanding of the mission of the Friends and the Gardens and what they are doing behind the scenes. That's what I'm passionate about. It's not just a pretty place to go. It really is valuable to the community. When you look at the number of volunteer hours, and the people served…the seeds being sowed here produce multi generational benefits."
---
SAVE THE DATE: Antiques at the Gardens
September 28–October 1, 2023