For nearly 30 years, volunteer Carol Payne has carefully selected and painstakingly tended specialty lavenders for the Friends' annual Spring Plant Sale
By Mindy Keyes Black
---
When Spring Plant Sale shoppers ask Carol Payne what is special about the varieties of lavender she grows for the sale, she encourages them to lean in. "Put your nose over here," she says. "Now isn't that wonderful?"
For Carol, who has been selecting, growing, and selling lavender to support the Friends' work at the Gardens for more than a quarter century, there is no substitute for engaging the senses.
"You can't sell this online," she says. "You've got to sell it in person. I say, 'Smell!' "
When Carol joined the Friends' Herbs volunteer growing group—often called the "Herb Army"—in 1991, she started out growing salvias and rosemaries, learning from mentors Mary Jean Morawetz, Barb Sanders, and Juanita Martinez, who led the group at that time. A few years later, she began growing lavenders exclusively.
Each Wednesday morning throughout the year, you'll find her in Greenhouse 4, checking to make sure her lavender plants are warm enough, draining well, and getting the nutrients they need.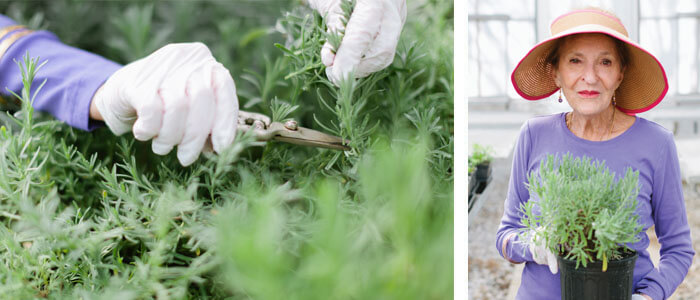 "There are things that you don't know when you start working with plants," she confides. "For instance, you cut them in order to make them grow. I always come in between Christmas and New Year's and take cuttings so they'll be ready for the sale in the spring. I start out with one little stem, and when I cut it open and it roots, I cut the main stem, and soon it makes two, and then four. So I try to do three cuttings before our sale, and that way it fills the whole pot."
She chooses varieties proven to do well in our region. "A lot of box stores will have angustifolias [English lavender], but you're really not supposed to buy them here," she says. "They are very pretty, and they bloom earlier, but they don't like our humidity at all—they'll live maybe a year, and that's it. Hybrids do much better here."
One of her favorites is sweet lavender. "A number of years ago, I noticed there was none on the market, so I started taking cuttings from my own and propagating them," she says. "I usually have about 150 sweet lavender plants to sell in the springtime."
("Here," she interrupts herself, picking up a pot of sweet lavender and clipping off a few leaves to share. "You can take these cuttings and tuck them in your pillowcase. Doesn't that smell good?")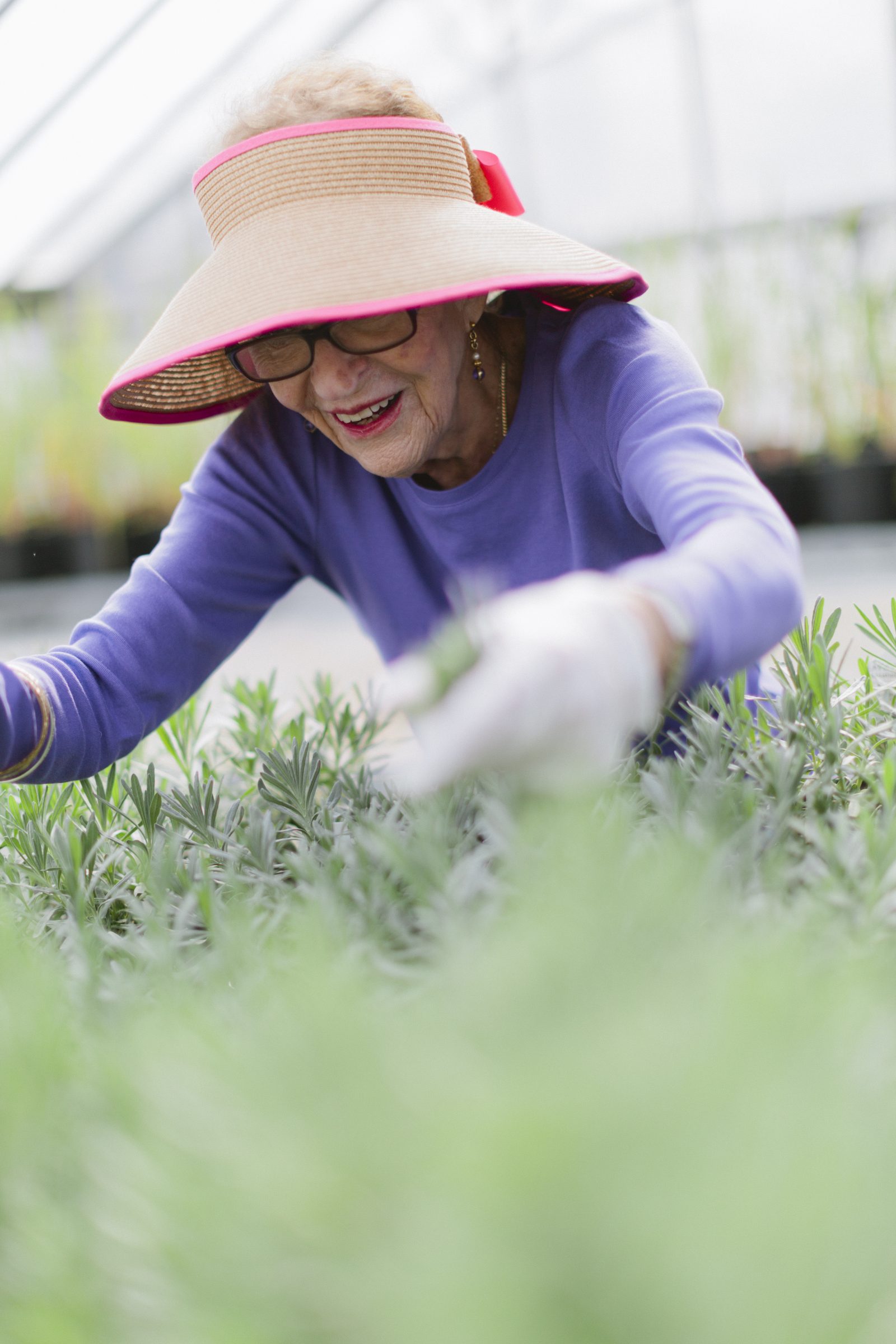 Carol continues to research her subject and introduce new varieties of lavender to the sale.
"This past year, I came upon one on the market called 'Sensational,' a trademarked plant. I had never seen it before," she says. "We ordered plugs to grow for the sale. It has a wonderful fragrance, and it's a hybrid, so it does well here."
("Do you want to see it?" she asks. "Don't these look great? And the thing about it is they have a longer bloom time—plus that fragrance!")
Through the years, her passion has also impacted how plants are grown and tended for the Friends' plant sales. Carol, for instance, advocated for installing heating pads in Greenhouse 4. She also mixes the soil she uses, adding bark and lime to a tropical mix to promote good drainage.
"Lavenders came from the Mediterranean area, so you have to try to mimic their growing conditions," she notes.
Some time-tested tips, tricks, and tools of the trade are based more on personal experience. "I like to use a cocktail fork," she says. "It is perfect for getting down where the roots are to see how they are doing. I've had it for many years, and it works just fine."
As she gears up to encourage shoppers to "Smell!" at Spring Plant Sale 2022 at Birmingham Botanical Gardens, she laughs about how tired she often feels at the end of a sale. "Lavender people ask the most questions—you can't imagine," she says. "I'll have people come to the sale and say, 'I got one last year, and I don't know what it was, but I want one just like it!'"
---
Enjoy getting to know our lavender lady? Read more stories in the spring 2022 issue of The Garden Dirt, the award-winning quarterly newsletter of the Friends of Birmingham Botanical Gardens. Become a member of the Friends of Birmingham Botanical Gardens and receive future issues of The Garden Dirt and other great benefits. Thank you for supporting the Gardens and all that it makes possible through your annual membership, donations, and plant sale purchases!