2022 Annual Report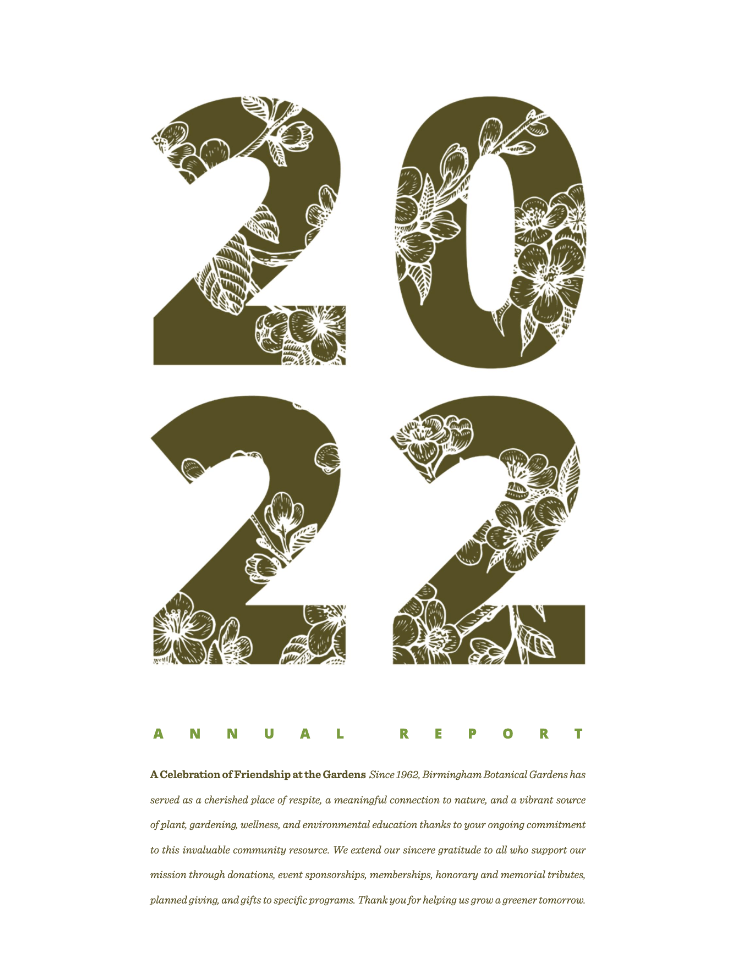 2022 Donors, Sponsors & Philanthropic Members
The impact and very existence of this beloved urban oasis are thanks to the support of a community that cares.
A very special thank you to the following donors, corporate sponsors, and philanthropic members who supported the Friends of Birmingham Botanical Gardens with cumulative gifts of $1,000 and above between January and December 2022.
We extend our sincere gratitude to all who support our mission through donations, memberships, event sponsorships, honorary and memorial tributes, planned giving, and gifts to specific programs throughout the year.
Thank you for helping us grow a greener tomorrow.
To explore milestones that your commitment made possible in 2022, read full report here.
Read our 2021 Donors, Sponsors, & Philanthropic Members
---
DONORS & BENEFACTOR CIRCLE MEMBERS
Garden Benefactors ($2,500 and above)
Includes Benefactor Circle members at the Orchid ($20,000+), Dahlia ($15,000–$19,999), Camellia ($10,000–$14,999), Azalea ($5,000–$9,999), and Dogwood ($2,500–$4,999) levels
Andrew Burgin Charitable Trust
Ms. Gail Barber
Cindy & Brian Barr
Tom Beckbe
Sandy & Ted Berglund
Blade & Bow
Mr. & Mrs. Luther H. Boudra
Brasfield & Gorrie
Margaret & William Brooke
Mr. & Mrs. Ryan Burgess
Mr. & Mrs. John E. Butcher
The Butcher Fund
Camille Butrus
C. Eugene Ireland Foundation
Jonnie & Paul Caddell
Ms. Clare B. Cannon
City of Birmingham
City of Birmingham Park & Recreation Board
City of Mountain Brook
City of Vestavia Hills
The Comer Foundation
Debbie & D.C. Coston
D. Joseph & Ida C. Burns Designated Fund
Mr. & Mrs. Bob de Buys
Marilyn & Jim Dixon
Donald M. James Family Foundation
Dunn-French Foundation
EBSCO Industries, Inc.
Lindsay & Henry Ellenbogen
Ms. Linda F. Emerson
Dr. Glenn T. Eskew
Mr. & Mrs. Claude Estes
Mr. & Mrs. D. Hunter Finch
The Forman Foundation
Kirk & Tate Forrester
Mr. Christopher Franks
Dorace J. Guin*
Gunn Dermatology
Mr. Fletcher D. Harvey III
Hill Crest Foundation, Inc.
Mrs. Elizabeth C. Hoffman
The Hugh Kaul Foundation
Huntsville Botanical Garden
Independent Presbyterian Church Foundation
Linda & Charlie Israel
Jefferson County Community Service Fund
Mr. & Mrs. Robert Jensen
The James Milton & Sallie R. Johnson Foundation
Mr. & Mrs. D. Paul Jones, Jr.
Mr. & Mrs. Carl E. Jones, Jr.
Junior League of Birmingham
Leaf & Petal at the Gardens
Sallie M. Lee
Marx Family
Marion & Edgar Marx
Anna McWane
Mr. & Mrs. Andrew J. Meehan
Mike & Gillian Goodrich Foundation
Millhouse Howell Landscape Company
Tricia & Andy Noble
Mary & Steve Phillips
Nancy M. Poynor
Publix Super Markets Charities, Inc.
Redmont Neighborhood Association
Regions Financial Corporation
The Riser Family
Robert R. Meyer Foundation
Mrs. Janet W. Rooney
Rucker & Margaret Agee Fund
Paula & Mike Rushing
Sarah Stewart Consulting, LLC
Shades Valley Rotary Club
The Signatry
Mrs. Dorinda M. Smith
Ms. Janet E. Smith
Nancy & Murray Smith
Mr. & Mrs. Joseph C. South III
Spire, Inc.
Sterne Agee Charitable Foundation
Susan Mott Webb Charitable Trust
Virginia Stockham Ladd Family Foundation
Vulcan Materials Company
Brooke & Tyler Wahl
Mr. & Mrs. Philip B. Young
ANONYMOUS
Garden Benefactors ($1,000–$2,499)
Includes Benefactor Circle members at the Boxwood ($1,000–$2,499) level
Mr. Edmund R. Agee, Jr.
Mr. Claude C. White & Ms. Sallie S. Aman
Mr. & Mrs. Lee Bentley
Bespoke Landscapes, Gardens & Florals
Mr. & Mrs. Uday R. Bhate
Mrs. Patricia H. Blinn
Dr. Suresh B. Boppana
Mr. & Mrs. William A. Bowron, Jr.
Mr. T. Lyons Bradley & Ms. Joanne M. Montowski
Mr. & Mrs. Robert S. Briggs
Mr. Richard Wood & Ms. Wendi M. Brown
Ila & Jim Broyles
Ms. Kaye McKinley Carlisle
Alleen Cater & Lyle Hohnke
Louise & Butch Clayton
Cobb & Cobb Promotional Products, Inc.
Mr. & Mrs. C. Coleman Daniel II
Mr. & Mrs. Randy Doores
Mr. & Mrs. Ronald E. Elliott
Wendy & Jake Evesque
Kit & Mac Fairley
Mr. & Mrs. Christopher T. Fennell
Ms. Kimberlee Fields
Finch Fine Wines
Mr. & Mrs. Stephen Flowers
Caroline & Simon Foweather
Margie & Tom Fox
Freshwater Land Trust
Mr. & Mrs. William W. Goodrich
Goodrich Foundation
Dr. Jayleen M. Grams
Judge Sally Greenhaw
Ms. Patti J. Hammond
Helen & Chris Harmon
Leah & Robby Hazzard
Alleen Cater & Lyle Hohnke
Margariette & Bob Hooms
Millie & Billy Hulsey
Mr. & Mrs. James Milton Johnson
Virginia G. Johnson
Walker & Bill Jones
Dr. & Mrs. Tony Jones
Ann & Charles Katholi
Leo Kayser III
Sandy & Wayne* Killion
Dr. Karen J. Larsen
Mr. & Mrs. William B. Lewis
Dr. & Mrs. Mark D. Little
Sue Ellen & Mike Lucas
Terri & John Lyon
Anne Maura & Dottie McCoy
Lucy & William McCown
Ellen & Hobart* McWhorter
Mr. T. Lyons Bradley & Ms. Joanne M. Montowski
Pamela & Joseph Morad
Mrs. Elaine O. Morgan
Ms. Meredith L. Mullins
Allison & Fred Murray
Oak Street Garden Shop
Sandra & Jerry Parker
Ms. Apollonia Parker
Courtney & Jay Pigford
Sally & Gene Price
Nancy & Jim Price
Mrs. Minnie H. Rast
Karen & Alan Register
Mr. & Mrs. Bruce F. Rogers
Mr. Evan B. Roseman
Kaye McWane-Rosse & Mark Rosse
Kathleen & David Roth
Julie & Nick Seller
Mr. & Mrs. Alonzo Sims
Diana & Bill Slaughter
Mr. & Mrs. John W. Smith T
SmithMack LLC
Mr. Arnold L. Steiner
Pardis & Frank Stitt
Anne & Roger Suttle
T.S. Police Support League Inc.
Mr. Larry D. Thornton, Sr.
Thornton Enterprises, Inc.
Mr. & Mrs. Ingram D. Tynes
Jane & Tom Underwood
Mrs. Elizabeth Y. von Herrmann
Carol & Charlie Waites
Mrs. A. Brand Walton
Ms. Jane S. Webb
Mr. Claude C. White & Ms. Sallie S. Aman
Richard Wood & Wendi Brown
Sally T. Worthen
ANONYMOUS
---
ANTIQUES AT THE GARDENS
Co-chairs
Anna Cooper | Catherine Pringle |Mark Thompson
Honorees
Will & Maggie Brooke
Presenting Sponsor
First Horizon Bank
Gala Sponsor
Cooper Construction
Red Diamond Lecture Series
Red Diamond, Inc.
Diamond Sponsors
Will & Maggie Brooke
Platinum Sponsors
Birmingham Park & Recreation Board
The Caring Foundation of Blue Cross & Blue Shield of Alabama
City of Birmingham
Cobbs Allen & pure insurance
Cameron & Derrill Crowe
Devote Studio
Jeremy D. Clark Studio
Millhouse Howell
Regions
Sarah Stewart Consulting
Sister Parish Design
The Thomas E. Jernigan Foundation
Gold Sponsors
Jennifer & Jimmy Ard
Anna & Jim Cooper
EBSCO Industries, Inc.
McCorquodale Transfer
Medical Properties Trust
Protective Life
Silver Sponsors
Alabama Power Company, Inc.
Mrs. Kay Aldridge
Altec
Birdie Public Relations
Birmingham Lifestyle magazine
Bradley Arant Boult Cummings LLP
Brasfield & Gorrie
C.S. Beatty Construction
Anna & Jason Comer
Dunn-French Foundation
Penny & Mike Fuller
Grant Trick Furnishings
Karen & Michael Luce
Heather & Phillip McWane
1919 Investment Counsel
Penny & Ruffner Page
ServisFirst Bank
Shoppe
The Travel Studio
Net & Robin Wade
Brooke & Tyler Wahl
Warren Averett LLC
Bronze Sponsors
Alabama Aquarium & Pond Services, Inc.
The Atelier
Bham Now
Blade & Bow Bourbon
Burr + Forman LLP
Barbara Burton & David Williams
Ragan & Brad Cain
Molly & John Carter
The Chalker Group
Circa Lighting
Kathryn & Doug Eckert
Janie & Wally Evans
FLOWER magazine
Kirk & Tate Forrester
Gaia Florals
Gillian & Mike Godrich
Grand Bohemian Mountain Brook
Melanie & Jay Grinney
Mary & Victor Hanson
Harbert Realty Services
Leigh & Will Haver
Steve Holmes & Will Donaldson
Linda & Charlie Israel
Jones Walker, LLP
Junior League of Birmingham
Joy & Price Kloess
Katie & Jim Lasker
LICOA
Mr. & Mrs. Jeffrey P. Lisenby
Cathy & Tommy Luckie
Stephanie & Wade Lynton
Camille & Brad Marks
Maynard Cooper & Gale
Chappell & Charles Miller
Nall Whatley Foundation
Tricia & Andy Noble
O'Neal Industries
Pinson Valley Heat Treating Co., Inc.
Mrs. John W. Poynor
ProAssurance Corporation
Mr. & Mrs. Mark Rosse
Mr. & Mrs. Bruce F. Rogers
Sassy Slipcovers
Tom Beckbe
Total on 1st Advanced Clinical Spa
VERANDA magazine
Whistle Stop Garden Shop
White Arnold & Dowd P.C.
Anonymous
Director Sponsors
ADAC
Beth & Scott Adams
Paige & Carl Albright
Melinda & Ed Aldag
Assurance Financial Mortgage
BIRMINGHAM HOME & GARDEN magazine
Mr. & Mrs. Frederick W. Bromberg
Buffy Hargett Flowers
Camille Butrus
Caldwell-MacKay Co., Inc.
Cyndy & Keith Cantley
Catherine Pringle Design
Cory Watson Attorneys
Debbie & D.C. Coston
Helen & Reaves Crabtree
Lyndra & Bill Daniel
Adair & Whitney DeBardeleben
Kathryn & Todd Dorlon
Douglas C. Davis & Associates
Sarah & Charley Duggan
Penney & Roger Hartline
Leah & Robby Hazzard
David B. Hezlep
Jamie & Trey Hill
Tamala & Jeep Hillhouse
HOUSE BEAUTIFUL magazine
James F. Carter, Inc.
Janie & Jemison Jones
Dr. Lisa Mani
Marigold Designs
Kimand George Matthews
Lee J. Moncus
Nelbran Glass
Jean & John Oliver
Over the Mountain Journal
Sandra & Jerry Parker
Mr. & Mrs. Donald W. Patton
Marjorie Perlman
Courtney & Jay Pigford
Pinnacle Imports
Carol P. Poynor
Anne & Ned Rand
Reli Title
Schumacher
Shoal Creek Properties
Jane Selfe & Jim Simon
Catherine & Roger Smith
Joan & Stan Starnes
Mr. & Mrs. J.T. Stephens
Carole Sullivan
The Thompson Foundation
Travis & Co.
Mr & Mrs. Ingram D. Tynes
Jane & Tom Underwood
Zachary Westall
Zachary J. Westall Bespoke Landscapes
Wildflower Design
Wild Things Flowers & Curiosities
---
PERENNIAL LEGACY GIVING CIRCLE
Recognizing those who have made or pledged a planned gift as of December 31, 2022
Mr.* & Mrs. Edgar G. Aldridge
Mr. & Mrs. Michael Balliet
Ms. Camille A. Becker
Mrs. Lucille S. Beeson*
Peggy Bonfield & Orrin Ford*
Ida C. & D. Joseph Burns*
Mr. & Mrs. Arthur I. Chenoweth*
Mary Carolyn Gibbs Cleveland
Suzanne G. Clisby
Dr. & Mrs. D.C. Coston
Mrs. Martha Stone Cobb Daniel*
The Daniel Foundation of Alabama
Dr. L. Aubrey* & Elizabeth Drewry
The Dunn-French Family
Dr. John D. Elmore*
Martha B. & Robert L.* Eskew
Mrs. Trudy Evans
Mr. & Mrs. Wally Evans
Mrs. Claire H. Fairley*
Bernadine Rushing Faulkner
Mr. F. Lewter Ferrell, Jr.*
Dorothy Ireland Fletcher*
Dr.* & Mrs. Charles P. Grant
Patti Hammond
Jody & Don Hamre*
Penney & Roger Hartline
Mr. R.R. Herbst*
Mrs. Jimmie Hess*
Mr. J. Ernest Hill & Mrs. Ora Lee Hill*
Mrs. Jane Hinds
Fay B. Ireland*
Dr. Susan Jackson
Mr. George L. Jenkins
Bobbe & Hugh Kaul*
Ms. Pamela Kaul*
Mr. Jason C. Kirby & Mr. Benjamin J. Faucher
Fran Lawlor
William Brock Lewis
Dr. Bodil Lindin-Lamon*
Hope Long
Dr. Michael E. Malone
Annie Lee Buce Matthews*
Ms. Louise T. McAvoy*
Douglas A. & Linda P. McCullough
Margaret H. McGowan*
Mrs. Mary Jean Morawetz
Mr. Philip Morris*
Thelma Vaughan Mueller*
Mr. & Mrs. Fred W. Murray, Jr.
Don & Pat Nelson
Dr. James L. Newsome*
Dr. & Mrs. A. I. Perley*
LeAnne* & Steve Porter
Mrs. Carol P. Poynor
Mrs. Dorothy L. Renneker*
Deborah & John Sellers
Sandra S. Simpson
Mr. & Mrs. William M. Spencer III*
Frederick R. Spicer, Jr.
Mr. Douglas Arant Stockham
Janet & Jarry Taylor
Dr. Wendell H. Taylor, Sr.*
Mrs. Barbara D. Thorne*
Dr. & Mrs.* Jack W. Trigg, Jr.
Mrs. Carolyn D. Tynes*
Mrs. Ann H. "Nancy" Warren*
Mrs. Robert Wells
Anonymous (2)
*Deceased
---
LIFETIME MEMBERS
Mary & Samuel Blount
Dell Brooke
F. Dixon Brooke, Jr.
Derry Bunting
Thomas Carruthers
Mary Carolyn Cleveland
Isabelle & Paul Dreher
Beverly M. Perrine
Carolyn & William Satterfield
Frances Shepherd*
Virginia Shepherd
Lucy & Temple Tutwiler
Norman T. Williams
*Deceased
---