Participants in the Library at the Gardens' Seed Exchange Program Share a Love of Seed Saving and Swapping
By Mindy Keyes Black
---
Dorothy Leonard had been searching for months for the seeds of a rare variety of Peruvian hot pepper, Aji Charapita, when a friend introduced her to the Seed Exchange at the Library at the Gardens.
The lifelong gardener and Alabama native, who starts seeds year-round at her home in Fairfield, was thrilled to find the pepper, which is known for its spicy, citrus flavor, atop the card catalog that Director of Library Services Hope Long uses to store more than 700 varieties of seed available through the free swap-and-share program.
"Someone had just brought in some of the seeds I had been hunting for," says Dorothy. "I said, 'Wow, I've been looking everywhere for this pepper.' Hope said, 'Take some!' I did, and it is growing right now under a light in my dining room. Next summer I will be able to plant it in my garden."
Over the past two years, Dorothy has visited the Seed Exchange seasonally, discovering other new varieties and bringing vegetable seeds back to the Library after harvest so others can delight in growing and sharing unique selections that can be hard to find in big-box stores. "I love sharing seeds—it is just wonderful," she says.
Nearly 300 people, both novice and seasoned gardeners, have taken part in the program since it launched in 2016, not long after Mary Alice Thurman, a Master Gardener and longtime member of the Friends of Birmingham Botanical Gardens, showed Hope an article about a seed swap at another library.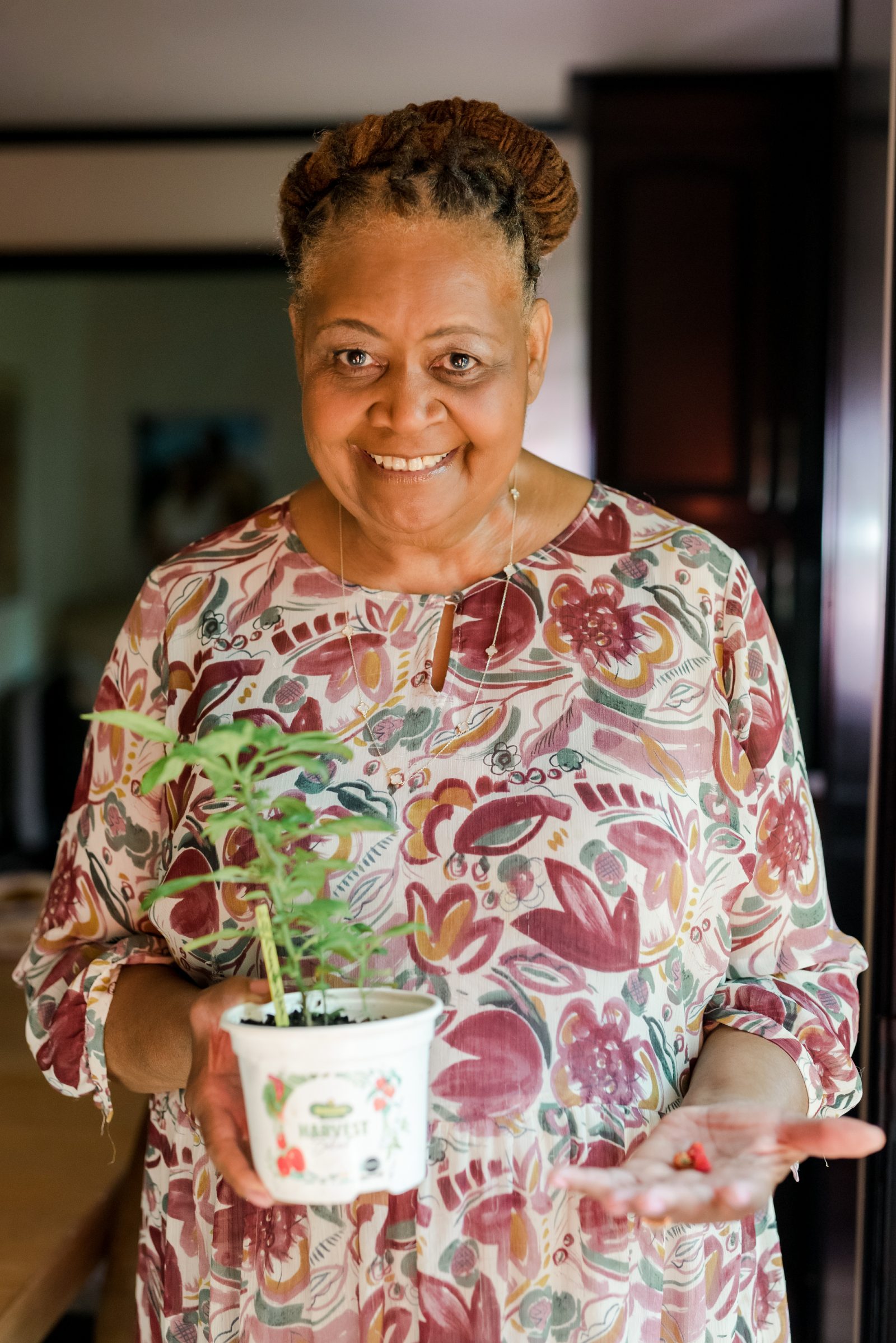 Dorothy Leonard holds an Aji Charapita, a Peruvian hot pepper that she has grown from seeds she found at the Library at the Gardens' free Seed Exchange program.
Armed with fond memories of gathering four o'clock flower seeds along a neighbor's fence and watching her father grow tomatoes, Hope began planning.
A donation of seeds from Seed Savers Exchange, an Iowa-based nonprofit that preserves heirloom plant varieties through regeneration, distribution, and seed exchange, helped kick-start the new program. Southern Exposure Seed Exchange, a cooperatively owned company specializing in heirloom and organic seeds in Central Virginia, became a go-to source for seed tubes, envelopes, and other supplies as the initiative grew.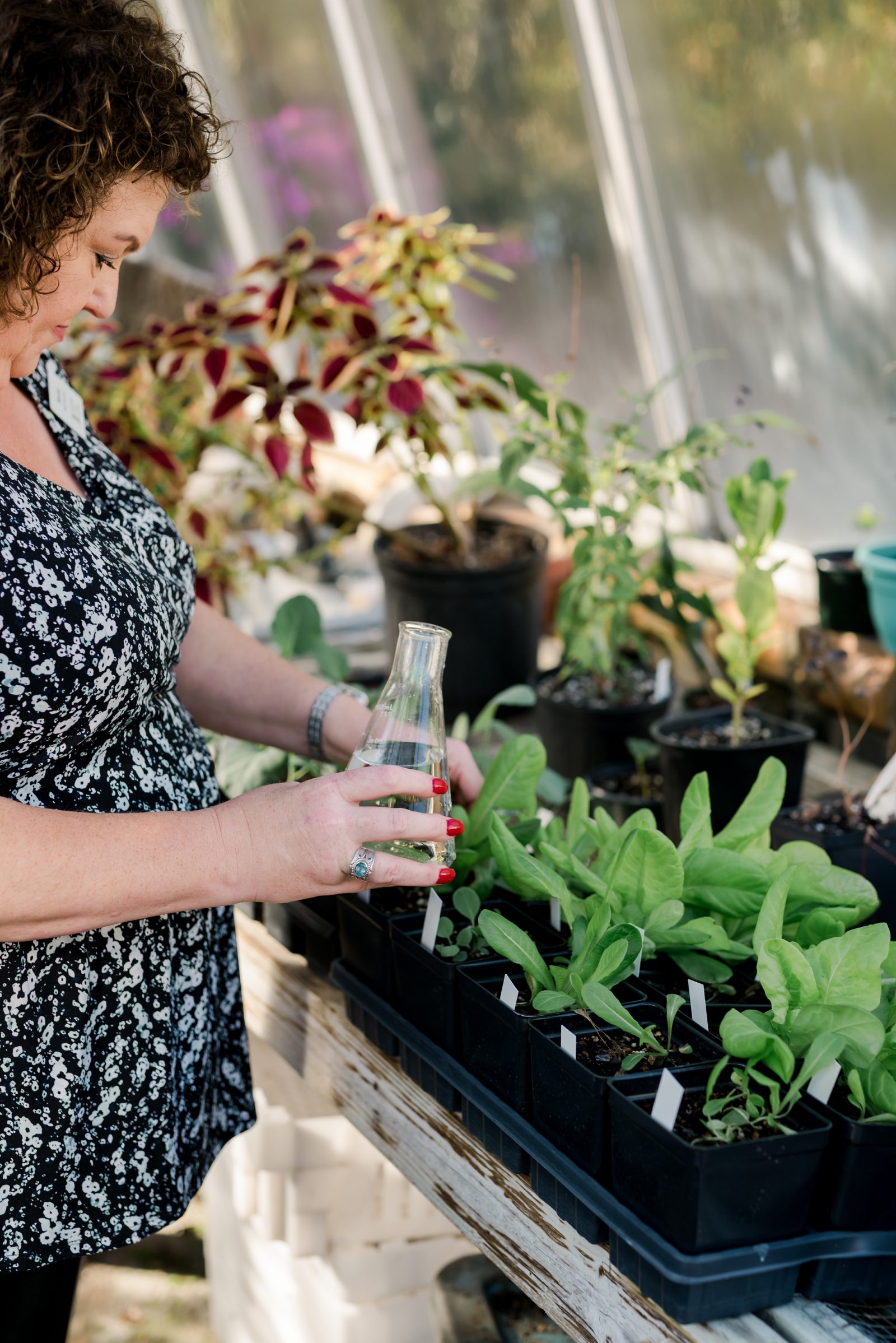 Director of Library Services Hope Long waters 'Little Gem' lettuce grown from seed in the greenhouse in the Plant Adventure Zone.
Collaborations with the Alabama Cooperative Extension System and Alabama-based seed repository Sand Mountain Seed Bank provided ideas and educational tools. Operating on the honor system, the Library Seed Exchange asks members to save seeds from their own gardens or to donate a packet of fresh, commercially grown, open-pollinated (non-hybrid, non-GMO) seed to keep the converted card catalog well stocked.
Seed offerings range from vegetables and fruits to pollinator-friendly flowers and native plants. Many are Southern favorites; a number, from Formosa lilies and luffa gourds to black-eyed Susans and coneflowers, were harvested from plants growing at Birmingham Botanical Gardens. One drawer of the catalog features easy-to-grow seeds ideal for young gardeners in the making.
"There is something very zen about taking care of seeds,"says Hope. "Seed saving celebrates biodiversity. It nurtures locally adapted plant varieties, and it fosters self-reliance and a culture of sharing. Often, it is the practice of seed saving that is keeping alive the heirloom varieties that we remember from our grandmothers' gardens."
Dorothy and other Seed Exchange enthusiasts like Atticus Rominger point out that the cost savings of growing from seed also can't be beat.
"My wife has a lot of projects for inside the house, so if I want to do anything outside, I have to come up with other ways to do it," says Atticus, who has participated in the Seed Exchange for close to three years.
"We moved into a new house," he says. "The yard was probably four times bigger than our old yard—it had a lot of great foundation plantings, but we wanted some gardens. It was a massive amount of space. I started out going on Facebook garden groups, going over to people's houses, digging up plants, sharing, and swapping. Someone suggested the Seed Exchange at the Library, so I looked it up. It's been amazing."
The benefits of seed saving extend far beyond monetary, he says."It has changed my yard," says Atticus. "There is a great collection of native seeds available. It has encouraged me to turn huge parts of my yard into native plantings. Back behind our vegetable garden, there was a wild, weedy patch. I started overseeding that area with native flower seeds like milkweed and swamp sunflower to help pollinate the vegetable garden. Overtime, I have slowly been changing the perennial garden in the front to more natives too."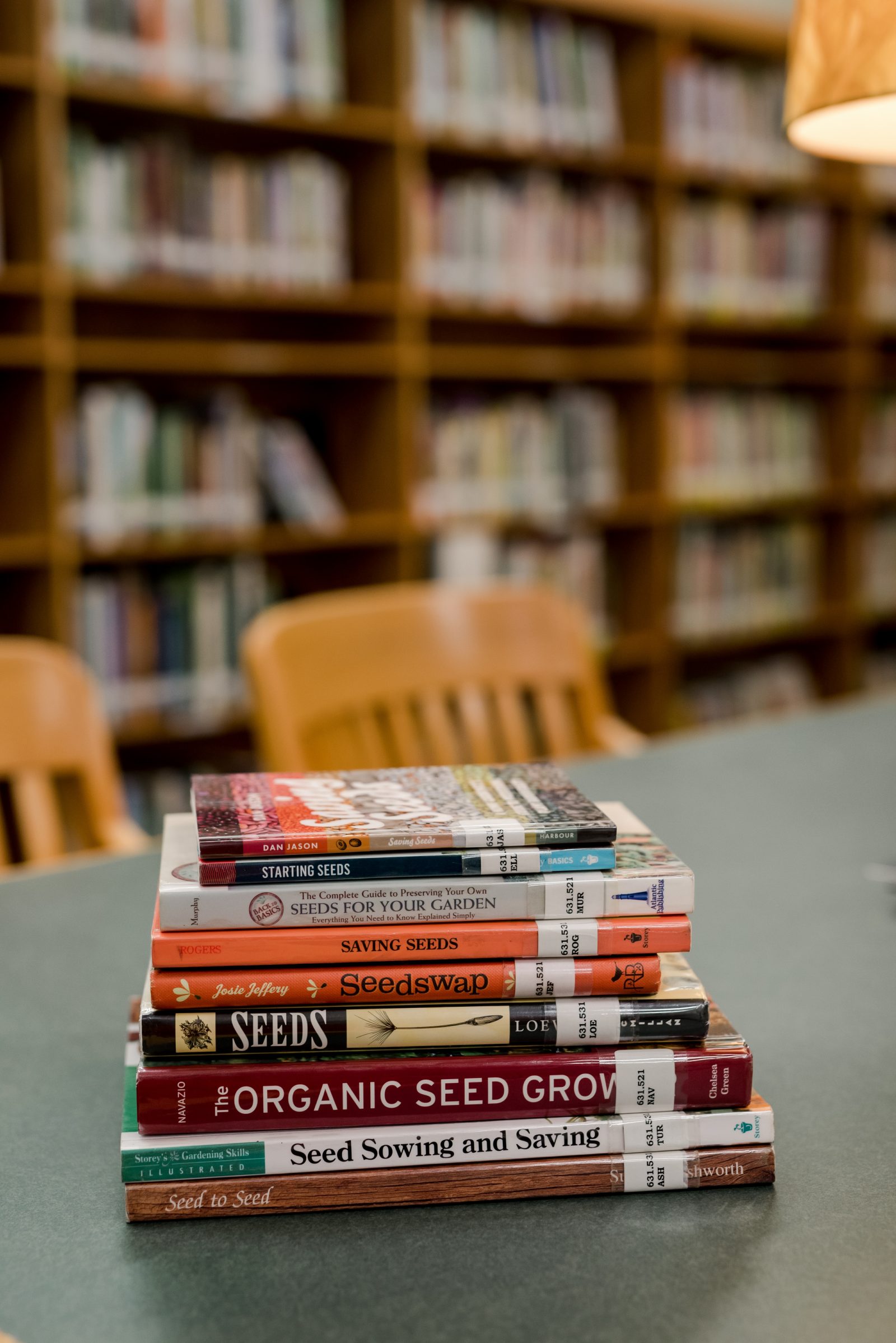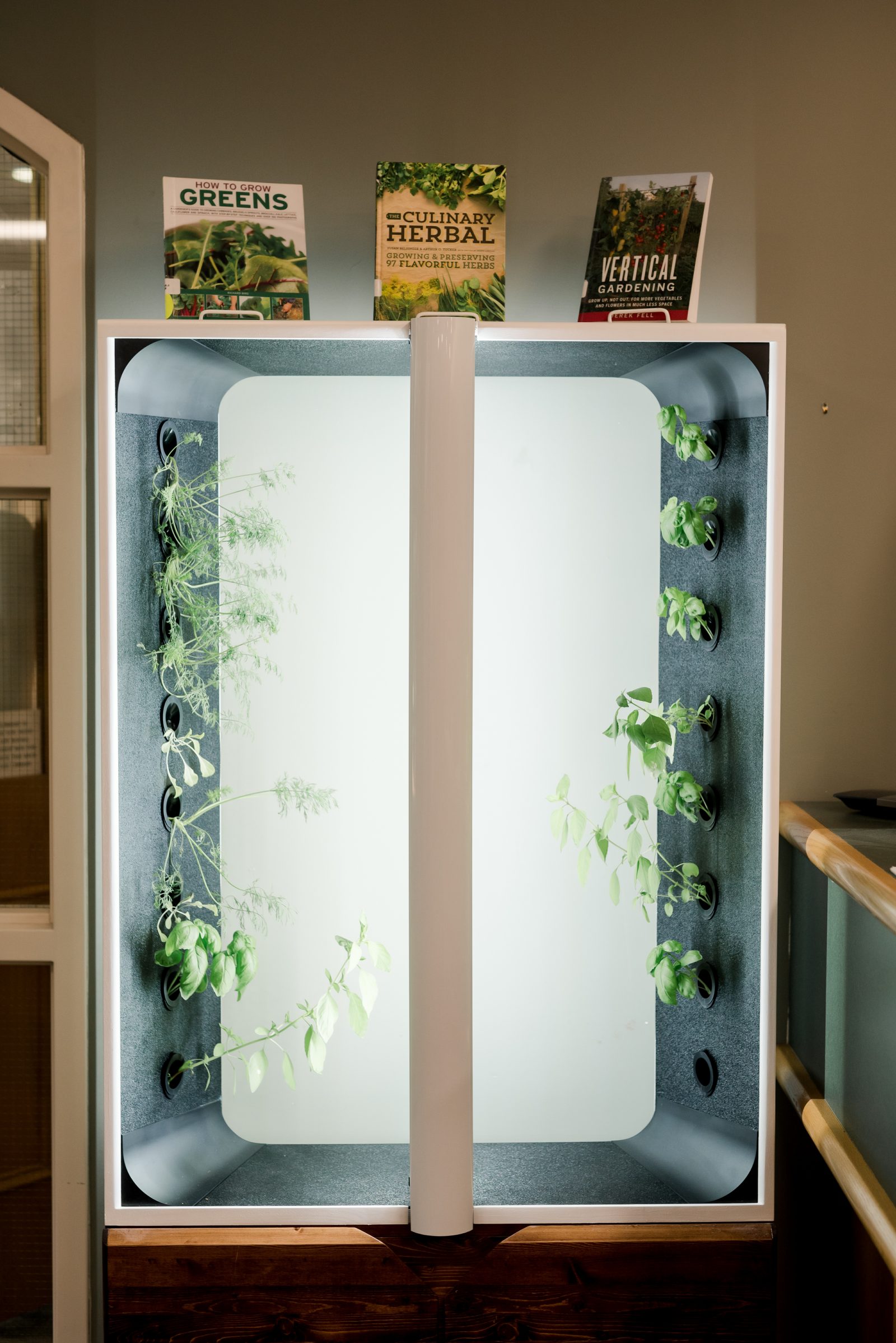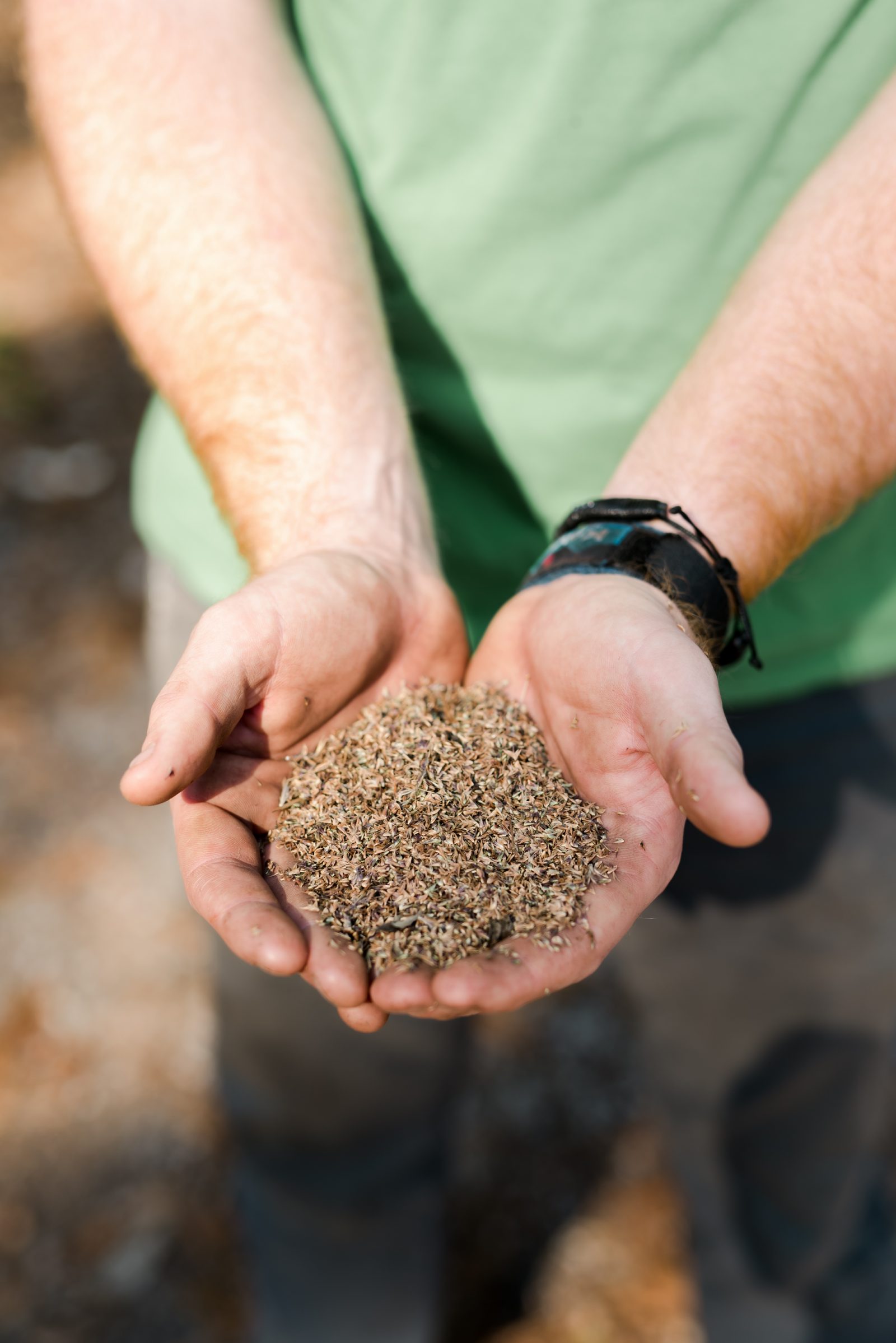 The Library at the Gardens, a program of the Friends of Birmingham Botanical Gardens, offers a wide array of books with tips for growing from seed. A hydroponic wall garden shows Library guests another way to grow dill, lettuce, and basil indoors from seed. Kaul Wildflower Garden Horticulturist Keith Turney holds seeds of wood oats (Chasmanthium sessiliflorum), a native grass that he sowed along the slopes of the Kaul Wildflower Garden this fall. It is one of the few species of grasses that thrive in shady woodland areas.
In addition to bringing back seed for others, Seed Exchange regulars provide ideas and feedback as they get involved and learn more about the art of seed saving. Dr. Helen Kim, a South Korean native and retired UAB Medical School faculty member who serves as president of the Alabama Asian Cultures Foundation, encouraged Hope to create a drawer devoted to Asian seeds.
"I have been fascinated with plants from day one," says Helen, who recalls as a young girl seeing her family and neighbors growing their own vegetables for cooking. "It was part of family life. I took it for granted that everybody grew plants and ate them. Then I came to America when I was 7 and lived in an
apartment complex, and nobody grew anything outside." Years later, while working on her Master of Forest Science at Yale University, she realized that she wanted to get back to growing again.
"The more you learn about it, the more fascinating it is. A tree or a tomato plant coming from an itsy bitsy seed, and watching it grow, is just amazing. I love the incredibleness of watching a seed become a plant and bear fruit or flowers."
The practice of saving and sharing seeds dates back thousands of years to the earliest agrarian societies, which depended on seeds for the next season's crops. In the modern era, the decline in small farms and availability of commercial seed led to a steep drop in the number of varieties being passed
down. Seed Savers Exchange estimates that 75 percent of edible plant species have been lost during the past century.
Nationally, efforts like the Heirloom Collard Project are working hard to reverse this trend. A collaboration between Seed Savers Exchange and seed preservation pioneer Ira Wallace at Southern Exposure Seed Exchange, the project is working to regenerate and share more than 60 rare varieties of heirloom collards that a USDA grant enabled researchers to collect from small-farm Southern collard growers, primarily in what has been called the "Collard Belt" in North and South Carolina.
Here at the Gardens, Alice Thompson Moore, volunteer coordinator with the Friends, was inspired by the project to add "Big Daddy Greasy Green' and 'Alabama Blue' collards to the fall planting plan for the Bruno Vegetable Garden. When Friends volunteers harvest the plants to share with local community kitchens, they will collect seed to make available through the Library Seed Exchange.
"It's a great way to share the wonders of the Gardens with our community while also keeping these heirlooms alive," says Alice. "We're also working to save and share seeds from other heirloom crops that do well in Alabama such as 'Seminole' pumpkins, 'African Drum' gourds, and 'Alabama Red' okra."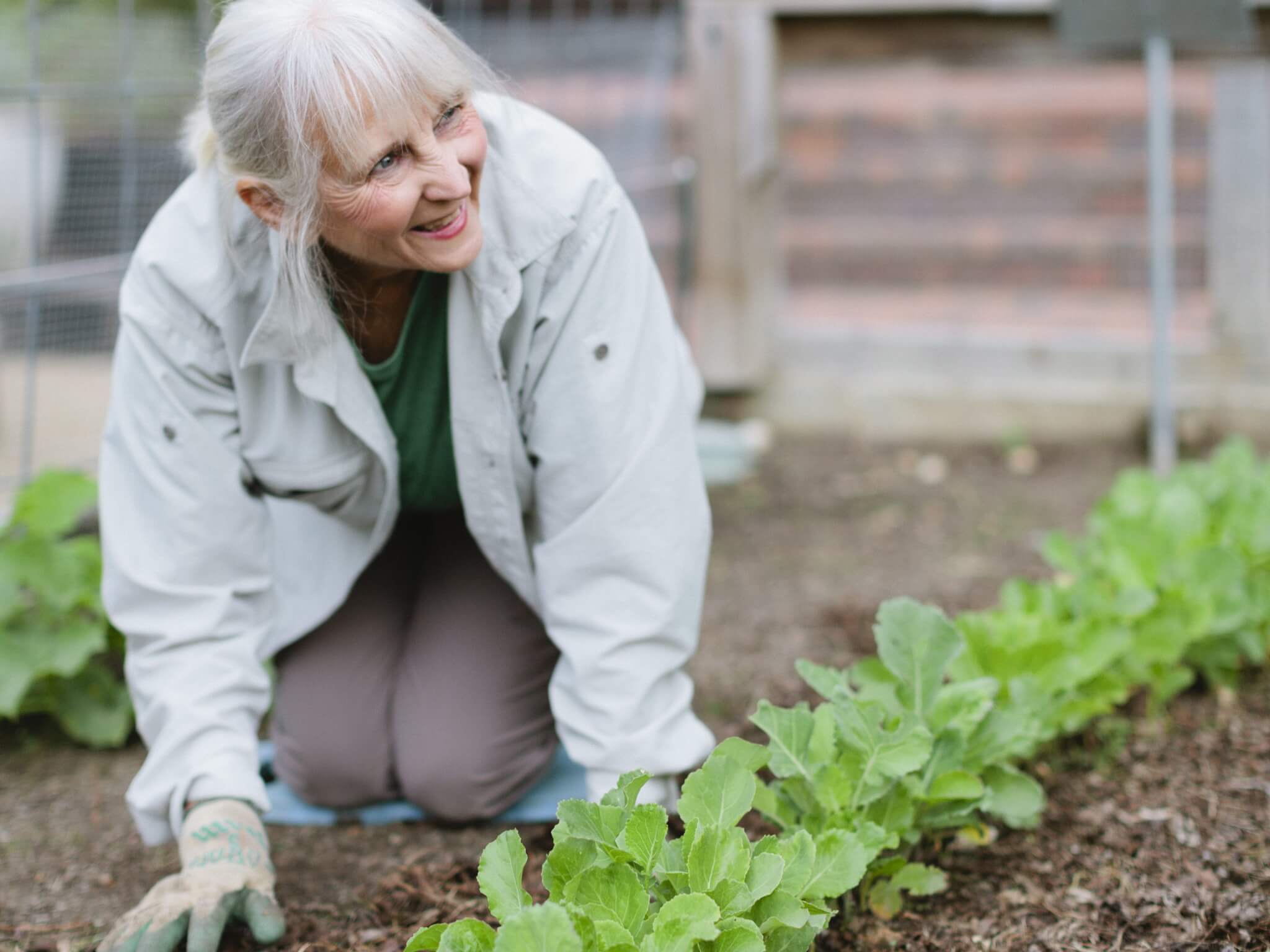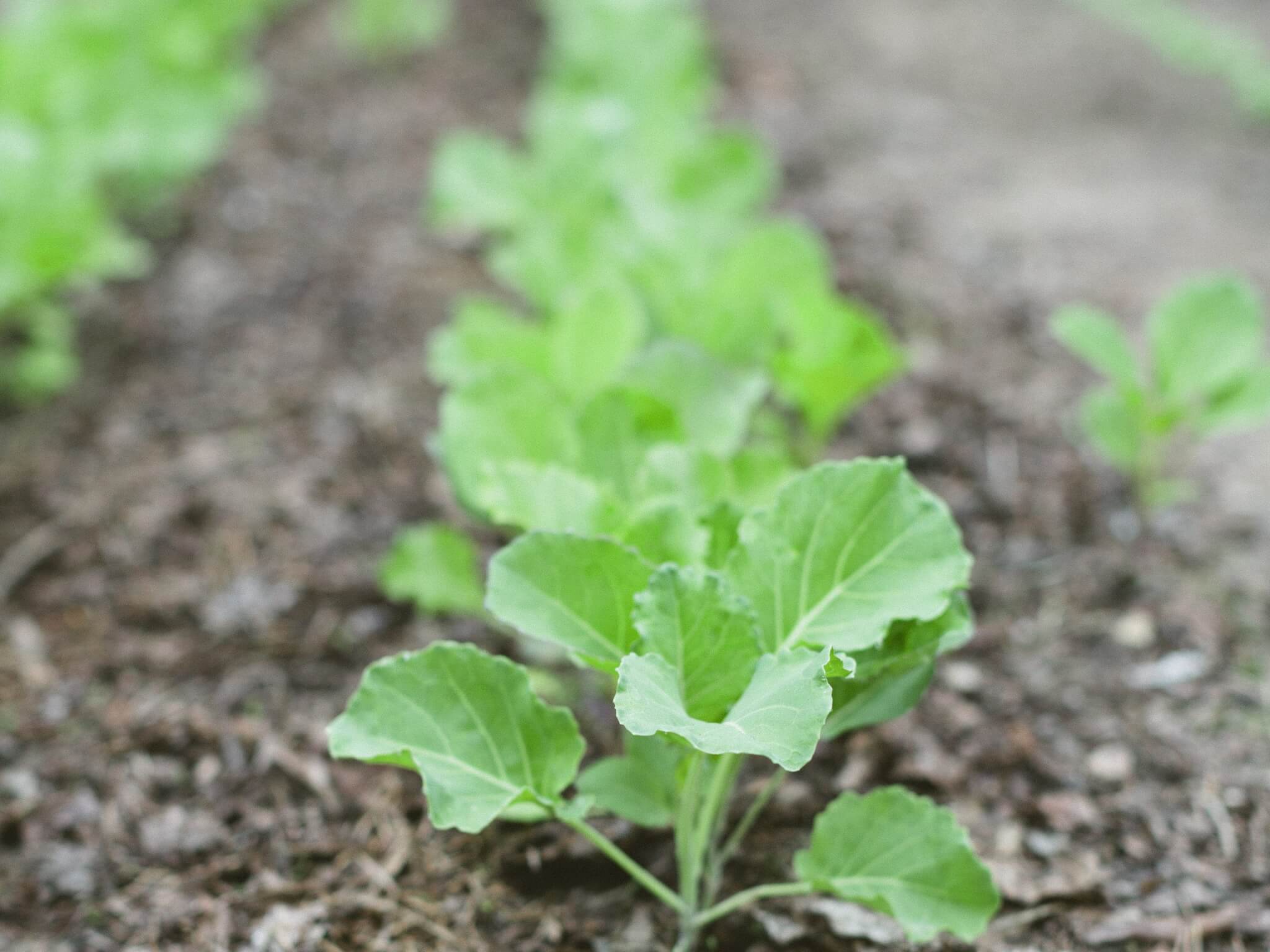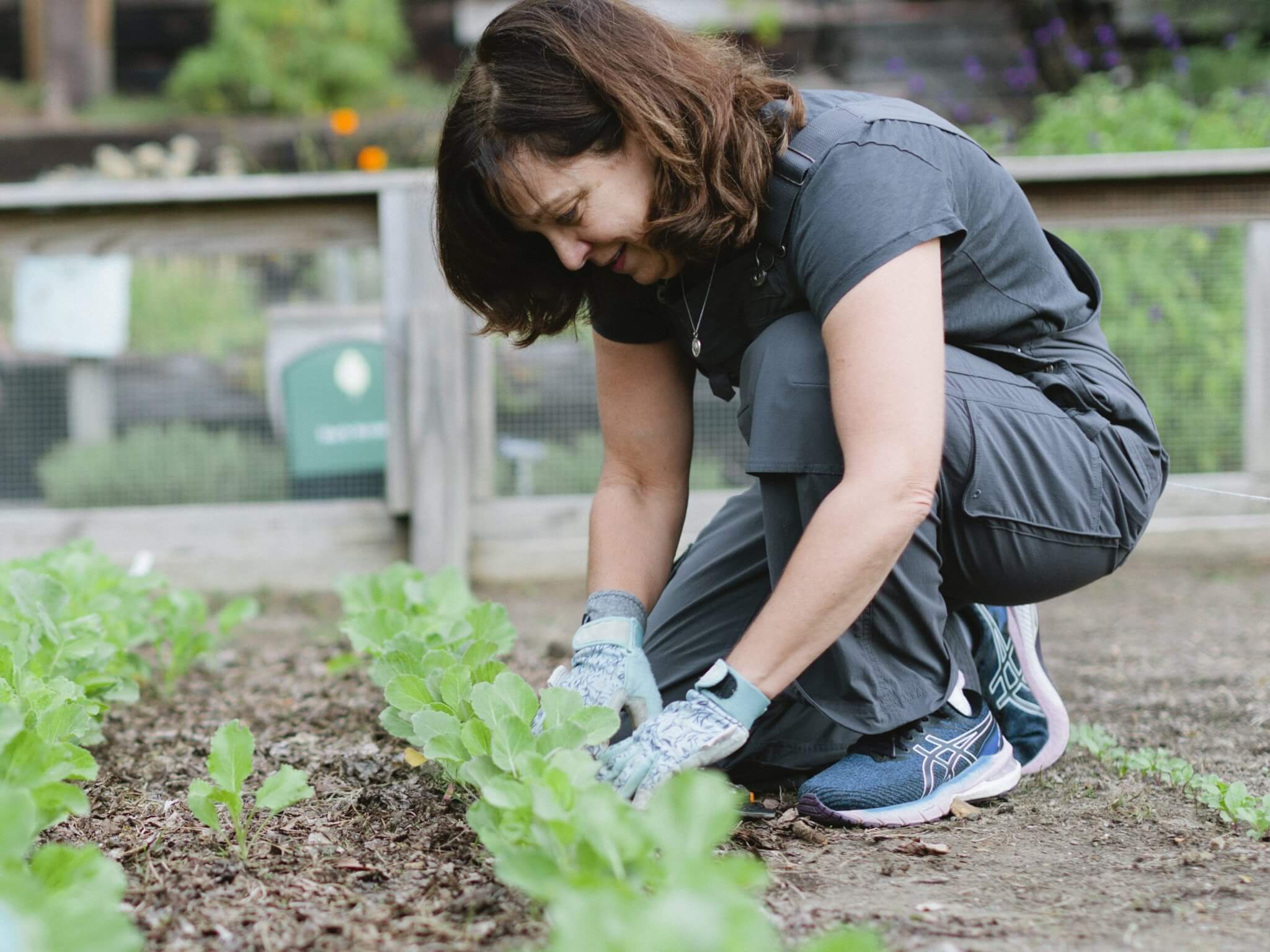 Friends of Birmingham Botanical Gardens volunteers Carol Waites, in the white jacket, and Julie Sellers, in gray, care for 'Big Daddy Greasy Green' collards growing this fall in Bruno Vegetable Garden. Seeds from this rare variety, one of more than 60 varieties of collards that the national Heirloom Collards Project is working to preserve, will be added to the Library Seed Exchange after harvest.
Associate Director of Gardens Support Molly Hendry is preparing to grow flowers from seeds that she will use next spring to fill in gaps in the Southern Living flower border. Kaul Wildflower Garden Horticulturist Keith Turney traveled to Hartselle, Ala., in October to collect native flower seeds to incorporate into the garden's new planting plan. "Hartselle and our Kaul garden share a geological formation known as Hartselle sandstone, so as we looked for plants that will thrive in Kaul, I went in search of seeds that are perfectly adapted to thrive in the specific soil conditions we have here in order to create plant communities that are both resilient and authentic."
Hope's search for special seeds to add to the Library Seed Exchange continues as well. The collection now includes black peanuts and 'Georgia Rattlesnake' watermelons, both part of the African Diaspora, with roots in African, African-American, and Afro-Caribbean traditions. She is currently working with the Sand Mountain Seed Bank to identify seeds for a new Native American seeds collection to help save seeds traditionally used by the indigenous peoples of Alabama.
"Just like books, seeds have stories," says Hope. "They teach and connect us in powerful ways and remind us what we value most."
For Dorothy, the joy of growing from seed comes from sharing the love. "My kids and I—we all hate squash—and all we know is the yellow crookneck," she says. "I read a lot of magazines and came across a squash called 'Delicata.' You rarely see it in grocery stores, but I happened to find it on a trip to California. I brought some back and saved the seeds. "Yesterday I roasted a 'Delicata,'" she continues, "and my son came home and ate a whole one! He said, 'This is squash?!' That's what I am talking about! They are so delicious. I slice and baste with olive oil and salt. They taste better than a sweet potato. Everybody is going to want this, and with the number of seeds that come from one squash, it is easy to share. I'll be taking these down to the Seed Exchange on my next visit."
---
Saturday, January 21 | 9:00 am – 2:00 pm
Join the Library at the Gardens in celebrating National Seed Swap Day (a week early!) with a Community Seed Swap.