Across the Gardens, volunteers give back to help Birmingham Park & Recreation and Friends of Birmingham Botanical Gardens staffs meet needs and enhance garden spaces.
By Jane Underwood
This post is the fifth in an eight-part series highlighting some of the many ways that dedicated volunteers—both longtime and new—give of their time and talents to support the Gardens and all that it makes possible. We invite you to enjoy additional stories from this series through the links at the end of this post, then sign up to learn more about volunteering with the Friends.
---
One of the most popular places in the Gardens is located in the Japanese Garden. The Bridge of Accomplishment, more commonly known as the zigzag bridge—representing the twists and turns one must navigate through life—is a favorite of visitors wanting to watch the koi and turtles who make Long Life Lake their home.
The bridge is lined with cedar panels with cutouts representing important Japanese symbols, and as with all materials, time has a way of degrading them to the point of needing to be repaired or replaced. This is where our loyal and dedicated volunteers step in. Not only do they share their time and energy, but also they share their myriad talents, and there is no lack of talent amongst our woodworking volunteers. Neal Schooley, a regular Tuesday volunteer in the Japanese Garden, saw the need to replace weathered panels but knew this was not a project he could tackle alone, so he reached out to our woodworking volunteers, who take on projects across the Gardens, for help.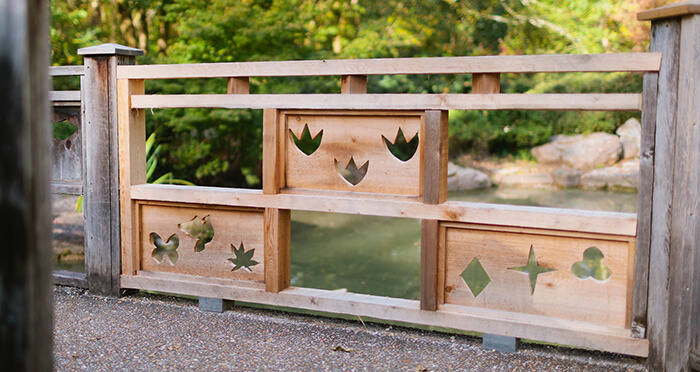 Originally the discussion centered around rebuilding the entire bridge from the deck up to prevent the bridge from needing any serious attention for the foreseeable future. As the group researched the best way to approach the repairs, though, they learned that it is Japanese custom to replace only what is necessary, thereby allowing the new to "learn" from the old.
As a result, the bridge starts out looking like a patchwork of panels, but over time the new will have patinated to match the old. Much like the Friends' high school- and college-age volunteers who look to Master Gardeners for guidance and instruction, the new panels of our zigzag bridge will learn their lesson well.
---
Interested in volunteering at the Gardens? Learn more about volunteer opportunities by visiting bbgardens.volunteerhub.com.
Giving Nature: An Eight-Part Series about the Impact of Volunteers at the Gardens
Part Two: Feeding Mind, Body, and Soul
Part Four: Show of (Helping) Hands
Part Five: Bridge of Accomplishment