Across the Gardens, volunteers give back to help Birmingham Park & Recreation and Friends of Birmingham Botanical Gardens staffs meet needs and enhance garden spaces.
By Mindy Keyes Black
This post is the seventh in an eight-part series highlighting some of the many ways that dedicated volunteers—both longtime and new—give of their time and talents to support the Gardens and all that it makes possible. We invite you to enjoy additional stories from this series through the links at the end of this post, then sign up to learn more about volunteering with the Friends.
---
Not long after joining other members of the Friends' General Gardening Group to dedicate a bench in memory of fellow volunteer Kathy Connelly, John St. Clair began paying closer attention to all of the wooden benches around the Gardens.
"Right off the bat, I said, we've got some older benches here that no one would even think about sitting on," says John. "Over time, because they are constantly exposed to Mother Nature, they have started to look dirty and grungy."
John approached City of Birmingham District Horticulture Supervisor Adam Benjamin and offered to put his and fellow volunteers' refinishing skills to use on a test bench. With input from Friends of Birmingham Botanical Gardens Donor Relations Officer Drew Rickel, who works with donors interested in giving honorary or memorial benches, Adam invited John to see what he could do with a well-worn bench in the Fern Glade. "We cleaned it up and sanded it, and everybody was amazed at the difference in how it looked," says John.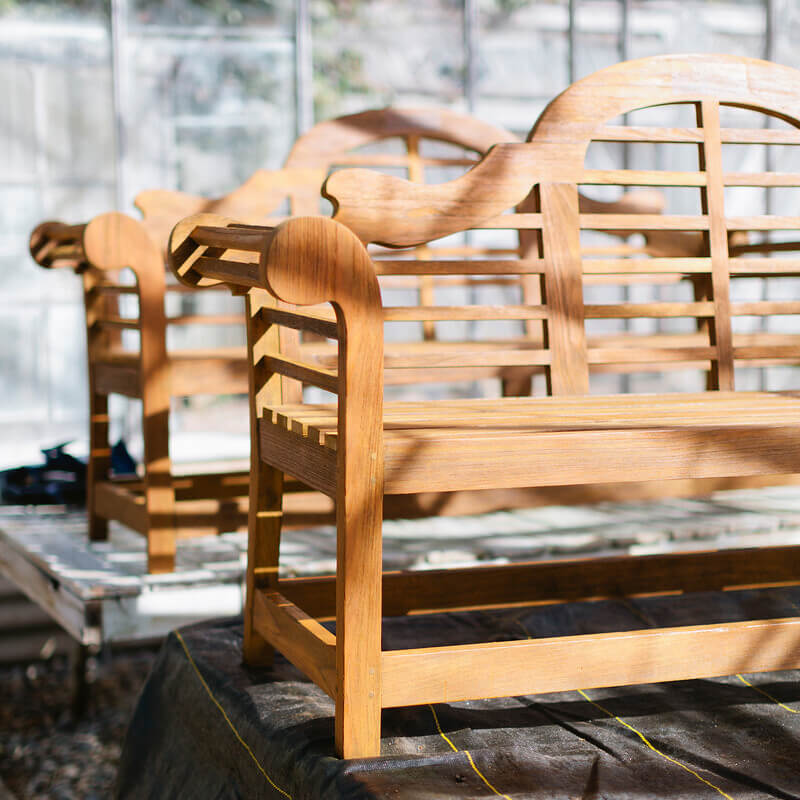 Eight months later, John and volunteers like Rick Cybulsky and John Markus—who pitch in between other volunteer carpentry projects—are preparing to refinish their 12th bench. They start the four- to seven-hour process with a two-hour cleaning using vinegar and dishwashing liquid in warm water and "a lot of scrubbing," says John.
"Some of these benches are 30 years old, so in 30 years, you can imagine the amount of dirt and moss and lichen." They finish with a light sanding and, in select instances, apply a sealant.
All total, more than 50 benches need attention, says Adam. "It's great," he says. "We've also identified some benches that need to be replaced.
Wooden benches don't last forever, but cleaning them is making them more usable while they are here. That's the whole goal—to allow more people to sit in the Gardens and enjoy them during their visit."
For John, the enjoyment comes from both working with others excited about the project and seeing the cleaned benches in use. "Ultimately, it's satisfying to see improvement in the Gardens."
---
Interested in volunteering at the Gardens? Learn more about volunteer opportunities by visiting bbgardens.volunteerhub.com.
Giving Nature: An Eight-Part Series about the Impact of Volunteers at the Gardens
Part Two: Feeding Mind, Body, and Soul
Part Four: Show of (Helping) Hands
Part Five: Bridge of Accomplishment
Part Seven: Sitting Pretty